My Bully Alex and the Backstop
October 24, 2017
It was a sunny, normal day at my elementary school. I was walking with my friend and we were on our way to my mainstream class from my special ed class. We were walking along the dirt path surrounded by the green field that kids played on. The type of green fields that have the backstop and the white lines that make the perimeter of the soccer field. It led directly to our class. Everything seemed to be normal and we were not thinking about anything until the event happened. When we were almost to our class, we saw red and blue lights surrounding the backstop in the big green fields.

When we came closer we saw police cars surrounding the backstop. There was a boy stuck all the way at the top of the backstop yelling and non stop crying for help. We were surprised at first, but then we laughed because the kid who was all the way at the top of the backstop was the biggest bully in my school.

The kid's name is Kyle, he is a really blonde kid and is really pale. Kyle is shorter compared to a lot of kids I know and he has blue eyes. Kyle is often aggressive towards other people and is very naughty. He does everything wrong right in front of the teacher's eyes. He always thinks that he is immortal and a god in school. He never regrets all of the wrong things he has ever done and never thinks about the school rules. Nobody thought of him as a bright guy and he was especially mean towards me.

One time, when I told on him for drawing a gun in class, Kyle gave me a really long death stare and said that wasn't true. His stare made me almost regret my decision of telling on him, but the teacher believed me and Kyle was soon in trouble. He gave me a long death stare in class before the bell rang and school was over. This made it clear that Kyle hated me.

The next day, Kyle pushed me and called me stupid. He said that I don't know how to learn and I don't think so because I just need a bit of extra help when I am learning about something than a general amount of people. When I learn about something, I just need a bit more extra help from my teacher. I thought about how much trouble Kyle will be in when he gets back down from the backstop. We tried to hide in a good position in the green fields so that the teacher wouldn't spot us. The teacher was still looking at Kyle so we were good for now. We lay on the the ground and continued watching on what was happening.

My history teacher Ms. Norman was next to a police officer, yelling at Kyle. I was enjoying the pain Kyle was feeling because this is something that he really deserved. We tried waving at Kyle to let him know that people are watching him and noticing his really embarrassing situation of being stuck all the way at the top of the backstop.

The police officers took out a big green trampoline for Kyle to jump onto. When Kyle jumped off from the backstop onto the trampoline, the trampoline broke and Kyle fell through it. There was a loud noise when Kyle landed. I heard a loud scream coming from Kyle and then nothing else afterwards when he landed. I did not see Kyle at all after that because he was probably lying on the floor. Everybody crowded around Kyle to see what happened to him. From the height of the backstop, it might have been really painful if I was Kyle.

The next day, I heard rumors from kids in school saying that Kyle had been expelled from this school which made me feel pretty surprised. At first, I did not believe them, but the teachers talked about him being expelled quite a lot in class which made it more believable that Kyle is truly expelled. The rumor of Kyle being expelled went around the whole school like wildfire until everyone heard about Kyle being expelled.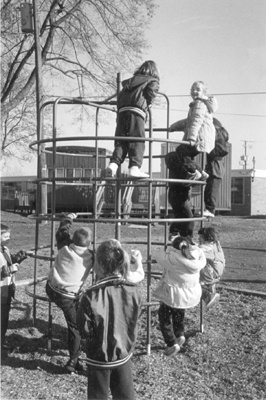 © Danielle H., Jonestown,PA