The New Wave
MAG
October 25, 2017
Standing at the bathroom sink, my eyes pridefully skimmed over the sea of small waves from my scalp. My short, dark hair was finally growing and the miniscule ripples were proof of that. I hadn't decided whether I would be like my mother and allow the nappy coils to grow free, or continue to spread guanidine hydroxide on my scalp to calm my kinks once again.

"Tye Eassja."

I could feel my mother's arched eyebrows furrow from two rooms away. As my body jolted from the mirror, I noticed she held the sapphire and eggplant shaded Precise box in one hand and a crisp receipt from Sally's Beauty Supply Store in the other.

"Am I permin' your hair or what?"

Promptly, I stood straight and stepped toward the hot pink throw pillow that sat between my mother's legs. I peered over at the colorful specks in our carpet, as she pulled the bobby pins and the elastic holder free from my straightened hair and proceeded to smear the off-white, creamy chemicals into each parted section of my scalp.

I believe my first memory is when I was four years old and I came home from getting my hair relaxed at my grandmother's house. I was living with my biological parents at the time (that's how long ago it was), and I didn't realize it at the time, but my hair had just been straightened to a crisp and then twisted up into short pigtails with color-coordinated barrettes. However, it was also the first night I experienced scissors; when my parents were asleep, I cut off all my hair. It's also the first and only whooping I ever got from my mother. I was laughed at by my paternal grandmother, who will tell you to this day that I had patches in my scalp, and when my hair started to grow and I was left with a short afro, or how strangers looked at me like I was a homely child. But soon after my hair grew back, I started getting those relaxers once again.

In elementary school, I would see all types of hairstyles on girls my age. Twists that were flattened to the scalp, or long, braided pigtails that went well past the shoulders. I envied those hairstyles. They had the kind of long hair that would begin to unravel into little curls after they played all day, or in the mornings their thin baby hairs would have a subtle curl. I never said it out loud, but I wanted that hair.

Growing up, my mother would tell me how my hair wasn't as soft or as loose as people with "good hair," so my grandfather told her to relax it with chemicals.

"It can't get no nappier," he said, looking at my head.
That convinced me that I had the world's hardest-to-manage hair. Still, it didn't fully sink in how much of my childhood was being wasted on chemical treatments.

I built my life around those relaxers. When I was told, "Come'ere so I can perm yo' hair" my expression would lift from a brooding frown to a glowing smile. Finally, I'd think, I can be pretty again.

It wasn't until sophomore year in high school that I began to notice other girls with loose curls and gorgeous waves and wild afro puffs that I started to wonder what my natural hair looked like. Was my hair pretty? There was only one way to find out.

Still, I stayed with the go-with-what-you-know route and told my mother to relax my hair. Those small waves that I loved? Gone in a matter of a few rubs and washes. That year, I finally told myself – and my family – that I never wanted to relax my hair again. I weighed the pros and cons, like I always do. The one con that always stuck with me was, What if my hair is as nappy as they say? Then what? Regardless, I deserved to know what my hair looked like. Even if my family didn't accept me or felt pity for me having to deal with a nappy mess, it'd be my nappy mess.

Now, there were a few occasions when my grandmother tried to persuade me. "If you perm it you don't gotta worry about it sweating out," she'd say, "cause when it sweats out, all you gotta do is straighten it again with the hot iron and go."
I refused to flat iron my hair. Heat would ruin my curl pattern and straighten it out just like a relaxer would. My hair was beautiful with its tight kinks, and I was not about to ruin them.

And by the summer of my high school junior year, I spent most of my time in the bathroom mirror twisting my curls into ten to however many thick pigtails. It would take an hour or two to finish my whole head. Spray. Moisturize. Comb. Twist. Repeat. All that time spent on a hairstyle that never lasted longer than three days; specifically because I'd end up going somewhere, and I refused to walk outside the house with my hair in short twists. However, with a puff, nobody could tell me a thing! My baby hairs were curled, my puff was thick, and my kitchen (hair at the nape of the neck) was laid. I was confident in myself and my hair.

To this day, I find it disrespectful when I'm asked why I don't relax my hair. Think about it: you're asked, "Why don't you alter yourself to appear to everybody else's standards so that we can look at you as if you're One of Us?" Never again will I change myself from my natural state to be or to look like somebody I'm not. Letting go of relaxers changed my outlook on the world; on my family, on myself. A simple change like that showed me the true reality of everything. How other black kids all over struggle to be or express themselves freely with their hair (dreads, braids, afros, etc.)

Quitting relaxers was a weight lifted off of my scalp. It opened me up to be more optimistic, considerate, and confident. It's funny how a subtle change in hair can change how you view everything around you.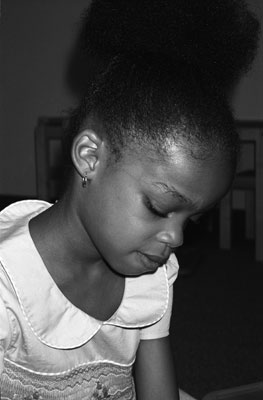 © Megan W., Ocala, FL