In-N-Out: That's What a Hamburger Is All About
October 22, 2017
In my opinion, In-N-Out Burger is the best burger fast food restaurant in the world! After reading this you might be convinced that I am right. Why do I love In-N-Out you may ask? Well, one of the many reasons is the smell whenever I walk in, it is glorious and perfect, no greasy stink.

One time I was outside because the line to order was super long, a customer spilled their drink all over the place, an In-N-Out worker saw what happened and went in and got them the same exact drink free of charge. In-N-Out employees are among the highest trained in the burger business.

Another thing that I love about In-N-Out is that they use nothing but fresh vegetables, and the meat is never frozen, yet everything there is made in minutes! One day my mom and I were going to In-N-Out for my favorite lunch and much to my surprise, there was no line in the drive-thru. We ordered and went directly to the window to pay, one of the best days of my life, I felt so lucky, I go there pretty much every week!

According to Buzzfeed, In-N-Out Burger was founded by Harry Snyder and his wife, Ester, in 1948. Also,the original Baldwin Park location is credited with the first drive-thru in California. The couple couldn't afford the real estate necessary to have a parking lot for the carhops (which were standard in those days), so they went with the speaker-equipped drive-thru and a name that captured the public's attention and said it's easy to eat here, In-N-Out burgers. A fun fact, each location has two palm trees that are crossed in the shape of an X. The reason why the palm trees are crossed is because of a scene in one of Harry's favorite films called "It's a Mad, Mad, Mad, Mad World.

In-N-Out was the very first drive through in California and the very first non-California location was opened in Nevada in 1992. As of today there are 304 locations located in California, Nevada, Arizona, Utah, and most recently Texas and Oregon.

The iconic yellow arrow was introduced in 1954, and it's meaning is, "The arrow points to pride," and, "We all work under the same arrow."

There is a bible verse, John 3:16 and it is on every cup, burger wrapper, fryboat, and even every employee paycheck, the verse says, "For God so loved the world that he gave his only begotten Son, that whosoever believeth in him should not perish, but have everlasting life."

Employees are paid very well, a manager makes at least $100,000 a year which is one of the reasons In-N-Out has one of lowest turnover rates in the fast food industry. The average manager stays fourteen years. While the average part time associate stays for two years. Compared to other fast food restaurants where only half of all of the employees stay longer than a year. That's a big difference!

The company has also been holding "pop-up shops" around the world, In-N-Out has something for everyone, for example, If you're vegetarian, you can order a grilled cheese or a veggie burger! There is a secret menu that you can order from. A few of my favorite items from the secret menu are, Lemon-Up, Root Beer Float, Roadkill Fries, Animal Style Fries, Animal Style Burger, Chopped Chilis, and the Neapolitan Shake. The first "animal style" burger was introduced in 1961.

So are you convinced that In-N-Out Burger is the best burger fast food restaurant in the world?!? If you want to do something special for someone you love take them to In-N-Out for the best burger in the world!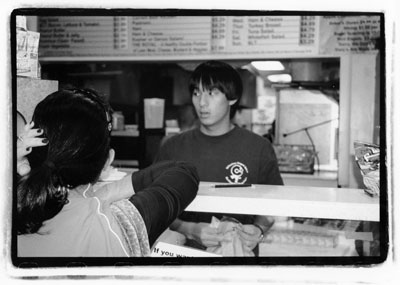 © Rachel D., Bethesda, MD