Why You Should Join JROTC
October 19, 2017
JROTC stands for Junior Reserve Officer Training Corps. Some think when they join JROTC they also will be required to join the Air Force, Navy, Army, Marines, or the Coast Guard. These individuals also believe JROTC is only for people who will eventually join the Air Force, but that is incorrect. The Junior Reserve primarily teaches leadership but it also teaches about the Marines, Air Force, Army, and the Navy. Some laugh at the cadets wearing the uniform. Those who laugh probably don't know what they want to do in their life or who they want to be. Joining JROTC is the best decision a student could make for the their future.
One reason why most don't want to join is because of the uniform they are required to wear. It is an honor to wear the uniform that active duty service members wear. Once I was at Walmart one day in my uniform, a shopper smiled and said, "Thank you for your service." I smiled and waved. Even though I am not in active military service, it meant a lot to me. People actually care for those who defend our right to stay home and live our lives. For me, joining JROTC in high school, continuing on in college then enlisting into the active armed forces will be the greatest thing I will ever do. If an individual serves for 20 years, he or she can retire at a young age. It is an amazing feeling to have people thank you for all you do, and it is an honor to realize your family is safe because of an organization you were a part of.

More than 200,000 women are in the active-duty military, including 69 generals and admirals. Nearly 167,000 women are in the enlisted ranks. This makes up 14.2% of that force.There are 36,000 women in the Officer Corps. Among the top ranks, 69 of the 976 generals and admirals (7.1%) were women. There are 28 female generals in the Air Force, 19 in the Army, one in the Marine Corps and 21 female admirals in the Navy.
Approximately 25.2 million veterans of the U.S. Uniformed Services were living in the United States and Puerto Rico at the end of 2000. Female Veterans tend to be younger, have a higher education level and include a greater percentage of minorities.This dynamic is worthy of careful attention; with less than 1% of Americans serving in the armed forces today, there are both risks and benefits to a subset of the U.S. population bearing the burdens of war. There were 1,340,533 active-duty troops 2015(including those serving in the U.S. Coast Guard). This marks the smallest active-duty force since 2001, according to a new Pew Research Center analysis of data from the U.S. Department of Defence(DOD). In addition, the share of Americans serving in the active-duty military has declined marginally to 0.4% of the population in 2015(down from 0.5% in 2009).

JROTC can make a difference in the life of a student. My plan is to go to college for four years, enter as an officer and serve for 20 years.When I retire, I will be very proud of my choices. Employers want people who have respect for their country and are hard workers. My advice is for a great future join the military. Why would you not join JROTC if it pays for you to go to college. So my advice to you is make a smart choice and join JROTC you will never regret your choice when you get older.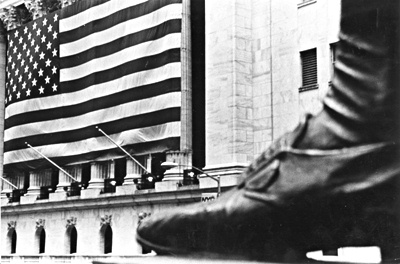 © Antoine B., New York, NY