My Love Life
October 18, 2017
When I was in preschool, I fell head over heels in love with a boy name Gannon because I thought his name was cannon, as in cannon ball, and pirates are so incredibly cool. He and the boys played "Destroying the World" at recess and me and the girls played "Saving the World". When I destroyed the world with him once, it sent waves around the playground. This was a major world event.
When I was in kindergarten, a boy named Pete told me I was his girlfriend. I said okay, but then he took my pencil and broke the lead. I told him only a bully would do that, and we broke up. Ah, the pangs of lost love.
When I was in second grade, my best friends were Jane and Alyssa and Brianne and Ximena and Hunter. But it was me Hunter liked best, me who he would have, if he could have, chosen as his girlfriend. I once used the drippings of an ice chest to write "I like Hunter" in water on a hot sidewalk. It evaporated before prying adult eyes could see it. Hunter was just my friend, my best friend, but I rather liked that.
When I was in fifth grade, I moved to a new school and decided on the first day that I was going to have a crush this year, for the first time ever. A real crush! Only, I didn't have any sort of real crush, and so I chose a boy the first day and chased him during Sharks and Minnows. He liked me and I liked him, I said, and in sixth grade he texted me I was pretty. After that, I flipped out, and had my friend tell his friend I did not like him anymore(had I ever?). His name is Ian, and he is one of my best friends.
When I was fourteen, I was in yet another musical and a boy in the cast left me a box of See's candies, a balloon that said "I Love You", a vase of flowers, and a Hermione Pop figurine backstage with a note that said "From Your Secret Admirer". But it was Jacob, and we all knew it was Jacob, and we all knew that I had not the slightest bit of interest in Jacob. I shared the chocolate with Karlie, Gigi, Emersyn, and Maria, and threw out the Hermione Pop figurine no matter how much I wanted it. Who knows if Jacob still likes me? We're still at the same theatre, and I always thought he liked boys.
When I was at the beach last summer, I walked with my cousins down the Santa Cruz pier, and I ate the coffee-chocolate ice cream that they only sell at the one little green shop with the candy and stuffed mermaids inside, like I do every year. A boy with long stringy hair sat on a bench playing a guitar and singing a folk song about murder, and I found my soulmate. When I dropped my last five dollars in his guitar case, he looked up at me and I could only see his eyes through that magnificent hair, and, Lord above, were they blue! My eyes were brown and my shirt had Oswald the Lucky Rabbit on it and my mouth was ringed with coffee ice cream. That moment was our wedding, our marriage, our death, and I need no time to love him more.
When I was in the library last week, I wore a Gryffindor shirt, and an older boy told me he was a Hufflepuff. I said Hufflepuffs are the best and he asked me if I had a Snapchat or an Instagram. He didn't know I was just a sophomore. I told him, no, I didn't, and that was the truth, but who knows what I would have done if I really did have a Snapchat or and Instagram? I left the library immediately, feeling terrified, sick. But when I thought it out step-by-step in my head, like I tell myself I should always do, I realized there was nothing bad that could come from it. Everything was beautiful, and nothing hurt. I would never see that boy again. I would never speak of him. I would never love him, and I never did love him. But I was there, I was seen by him, I was talking to him, I was a Gryffindor, I was worthy. And if anyone else, even him, was in on that secret, it would be spoiled.
My love life does not exist in the past or the future. My love life has been a brilliant series of the heartbeat-long present. I have laughed, broken, kissed, and married in a locking of eyes. An old married couple does not fear death after a life together. They have had their share of love, and if death is nothing but purple vibrations, the fact cannot be changed that there was once a time when they could look into the other's eyes. Their love can never, ever be taken from those sixty years or so during which it was alive. Mine cannot be taken from its split-second. My love life is as rich and as tragic as Juliet's. I do not need any more time. I do not need any more loves. I could die tomorrow a blissful bride. I really could.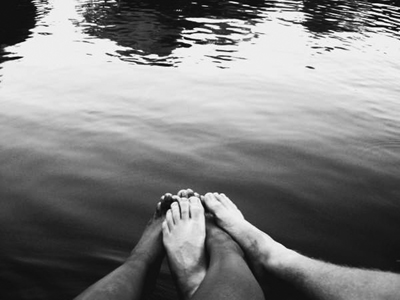 © Michelle W., Ada, MI