My First Day of School
October 13, 2017
It was a cool sunny day, 70 degrees, and a light breeze that would crawl up your back. On September 12th, 2006 I started my first day at St. Joseph School, where I balled my eyes out. So many ideas were rushing through my head faster than electricity can move. Questions such as "Why did my mom drop me off and leave me here?" and "What if that person with the old wrinkly fingers and face is very mean?" These were some things that I did not quite understand. My mom told me that it was time to leave the nest, whatever that meant.

On my way to the school in the car, I was perfectly normal. I had my backpack on and I had a good attitude. However, when I got out of the car my stomach dropped to my feet and my mood changed to an anxious state. My mom said not to worry because I would make a lot of friends and enjoy school, but I would constantly think to myself " What if the kids hate me, can I even trust them?" It felt like an earthquake was happening, but it was just my legs shaking because of how nervous I was approaching closer and closer to the building.

When I walked into the preschool room it did not seem too bad, the kids were laughing, having fun, and everyone seemed welcoming. The room was painted white with many posters of numbers and the alphabet on it. Also the floor had a checkered red and green pattern with a big square green carpet over it. The teacher introduced me to a couple of students which happen to remain my best friends today. I was having the time of my life! I was laughing and enjoying my time but then I noticed something traumatizing; my mom was not there beside me. At this moment I cried and ran out of the classroom in search of her. The teacher caught me before I found my mom which resulted in a treacherous and gruesome timeout. Now that I look at it, the timeout was not actually that bad because I got some time to cool down and assess reality. Also, looking back at it, I realized that if I never went to school, I would not have the friends that I have today.

By the end of my first school day I discovered that I can trust people other than my mom. Learning was pretty fun also, I found out I was good at it. I looked forward to snack time and story time because it was relaxing and enjoyable. Being independent was a very cool thing. Independence makes you feel free and made me think that I controlled part of the world. My teacher, Mrs.Vanscoyk, was an understanding and reasonable lady who guided me on the right track throughout my education. Now, I am standing here in high school with many friends that I can trust and a decent education. I can communicate well and effectively with others in a respectful manner. Just keep in mind that you should never be afraid to try something new because you do not know what you are missing out on. Missing that particular event that you potentially passed could change your life in a positive way.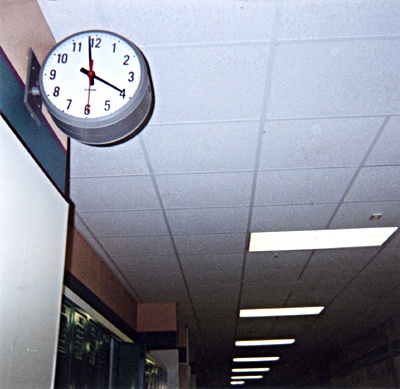 © Blake B., Highland Village, TX