The First Step
October 13, 2017
It was like a weight had been put on my shoulders, standing there in front of everyone. The darkness concealing most of the audience, only the two front rows could be seen from the wings of the stage. Before I knew it, we were being pushed out to place. I closed my eyes, trying to find my peace in this nerve-racking moment.
Last year was my first year back to dance class in almost five. It was definitely a big step considering I was behind in my technique. My best friend had actually suggested the idea to me as she was dancing as well, but she had been dancing forever. All worries aside, class was my pick up. I would go to dance class feeling discouraged and upset, but as soon as I walked through that door I immediately felt better. The girls at the studio were amazing and could make anyone's day by just their jokes. It became a second home for me. They were like my family. We all became so close it was incredible. Through the year I hadn't even thought about the recital. It never really crossed my mind. But when it was time to actually perform, I was a nervous wreck, everyone was.

The day of the recital I was pretty okay with the thought of performing. Everyone was joking around or practicing together. In the of couple minutes before we went on, I couldn't stop pacing. The practicing got more vigorous. Nobody was joking anymore. The sound of everyone amping each other up filled the air, some voices' shakey. We then took small steps as we lined up. The dark stage was taunting me, almost as if it was telling me to mess up. As we lined up to go out, the nerves got even worse. My mind was blank as we walked onto the stage, it was so quiet you could hear a pin drop. I closed my eyes as we got into position and took a deep breath. The music started and suddenly my feet knew exactly what to do. I ended up not missing a beat! It was so amazing and after, all I wanted to do was to do it again. The girls all came and had a group hug to celebrate. I knew I was coming back for a second season. It was something I loved and I couldn't wait to start up again. When we ended the season, it was bitter sweet. A few tears were shed. Much love was shared. That's when I learned to trust myself, even if I don't believe it.

Everyone has those nerves, they just have to push them to the side and live in the moment. I am now more calm in situations like these. Going back to dance has opened my eyes to so many more things. The confidence I gained made me get out there more, try different things. Everyone should trust their inner self, it benefits you in the long run.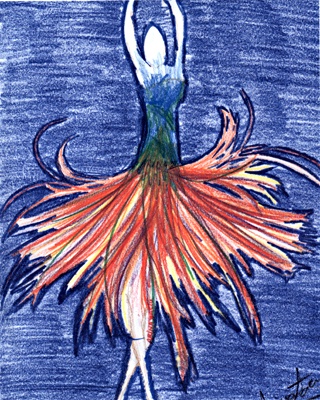 © Arina Z., Euclid, OH