Finding My True Passion
October 13, 2017
It all started out as a joke between my Dad, brother and I. It was a few days after a Rochester Rattlers lacrosse game during the summer, where I was heading into 7th grade. I've had already been playing lacrosse for about 2 years, and I've played all of the positions on the field except for one. I've only ever been really good at playing defense in sports. It has just come really naturally to me. In Baseball, I couldn't hit the ball almost at all. It was rare for me to hit the ball, but I would often get walked due to my stance. Then, in basketball, I was almost never given the ball and I was never fouled upon, nor did I almost ever foul anyone else. All this time I've had been doing really well at defensive aspects of the game, but none of it really meant that much to me, until I started to play lacrosse.

My dad, brother and I were talking about lacrosse, and the topic of me being a lacrosse goalie came up, and at first, I was completely against it. After awhile, it actually did sound pretty nice to do. At the Rochester Rattlers lacrosse game that I went to, the goalies name was John Galloway, and he really is why I started playing this position. He played college at Syracuse University, and posted a .566 save percentage. To this day I look up to him as someone I would love to be one day. He is also the head coach at Jacksonville University. One of my prized possessions actually is from him. At Syracuse players receive a practice t-shirt. I was luck enough, to where in the past year, he actually sent me his t-shirt, where it has in number and name, completely signed and addressed to me.

I ended up playing throughout the 7th grade, playing goalie, and I really enjoyed it, and worked my way to become the starting goalie on our team. In 8th grade we had two teams, but 3 goalies. The coaches decided to put me on the heavy defense team though and I was the only goalie on that team. Then, in 9th grade is when it got tricky. I didn't have the starting position anymore. A sophomore had it instead, and it was really hard being just a backup for the entire year. I did get playing time though, and I played the best I could when I was in to help prove to the coaches. Now, heading into 10th grade, I have the starting position again for our JV lacrosse team.

To this day I still play goalie, and it is one of the best decisions of my life. I've learned a lot in life about lacrosse and to always work hard. Another thing is, these guys, are some of my closest friends, and people I will always rely on, and that, is sometimes really hard to find in life.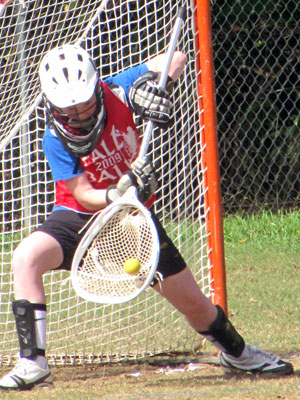 © Ashlyn S., Acworth, GA