Dancing on My Own
October 12, 2017
Our feet moved with the music, and I guess so did our souls. My hands trembled and I felt my stomach lurch; I was nervous from head to toe. Everyone else felt the same. We got to the school at which we were performing two hours before recital time. The air smelled of powder and lots of fragranced hairspray. We practiced till our legs ached, but we knew we couldn't afford to do poorly. Alia and I went over our steps again and again. When we finally felt confident, we decided that it would be best to get into costume and do our makeup and hair. The costume slid over my head easily, but left uncomfortable pinching sensations from the bright sequins adorning the top. My excitement made my heart pound with anticipation, we both knew we had high expectations to achieve, as we were the highest hip hop class in our dance company.

An hour or so later, it was 2 dances till our performance. We walked with trembling legs to slightly behind the curtains. I wanted to hide in the folds of the fabric, escaping the reality of the situation. My nerves were going crazy, I could feel my head throbbing.

"You'll do great" said Alia; her words did not calm me. We walked to our positions, I felt scared yet confident. The curtain opened and I could feel the stares of the audience on my back as I stood with a smile. We turned to face the crowd and I searched the excited faces of supportive family member for my parents. I couldn't see them, but I knew they would be here to encourage me. We started our routine, and I finally felt free, invincible maybe.We all stumbled a bit at first but once we got the hang of it, we flew across the stage with amazing speed. I could conquer my fear of being on stage by doing something that I loved. I looked over to see my dance teacher Cait smiling at me, leaving me with even more confidence. My head was racing with thoughts of excitement and freedom. Our feet moved with precision across what felt like a long stretch of flat land. I guess we were all picturing something different in our heads, I was imagining the epitome of confidence. After the dance was over I wanted to do it again, I felt so alive. Nothing could bring me down. I walked to my family, my dad handed me a bouquet of sweet-smelling flowers, wrapped in pink crinkly paper. I felt as though My family was proud of me for getting up on the stage and dancing my heart out. I got many amazing hugs from my friends and family. I felt loved and cared for, and most of all, proud.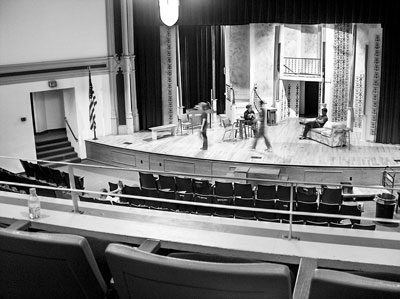 © Sean C., Princeton, IL