Sense of Place
October 11, 2017
It's the place where time slows and almost seems to halt. Where I can forget about all the negative in my life. The adrenaline snatches the thoughts from my focus as I explore and breathe in this place. It's that certain indescribable smell that lingers in my hair and on my skin when I leave. It's as if my skin is shriveling up like a grape in the bright noon sun. The waves are where I'm meant to be.

All my life I've been an outcast. I am the girl who sits alone in class. I am the one who is afraid to talk and speak my mind. I don't have many friends. Why? Because I'm afraid of getting hurt again, of getting left, of being judged. I'm not like everyone else. Inside I hurt and long for a life I can't even begin to describe.

Since I was ten, I've longed for a place I could go to escape all the fear and worry. I found that place in the waves. I could surf for hours on end. Day and night, rain or shine, nobody could get me off that waxed piece of fiberglass for anything. Once my toes reached the water, I entered a magical land of no return. A land where it's just me and the waves.

There is something about those waves that always finds a way to draw me back in. Maybe it's their power that I dream of obtaining. Or maybe it's the wonderful music they play as they dance upon the sand. They have become a part of me that will never leave.

However, surfing isn't all it's cracked up to be. It is hard to maneuver a five pound shortboard around on such powerful monsters known as waves. Many times have the waves betrayed me. I remember when I was eleven years old and I had a terrible wipeout. I popped up too late on my board and the white breaking crest slammed me to the ocean floor, tumbling and turning me under it like a washing machine. When my lips finally reached the crisp salty air and my lungs breathed in as much as it could, my board came back down. The fins on the bottom of my board sliced through my arm like a razor blade. I didn't give up on my friends though, because just like me, they were having a bad day as well. No matter how many huge angry waves the ocean rolled at me, I always got back on them. They were the only friends who truly knew me.

For the hours I spent playing with the waves I got to relax and ponder many things that not many people would or could imagine, like the purpose of life and if it's real or if it's all just a dream. I still don't have an answer to any of this however. As I floated in the water trying to answer all these questions, the sun painted my body in a bronze coat, making marks from the brush on my shoulders. My dad calls them angel kisses. They cover my face and body so the angels must really love me.

The water, just like my life, is filled with poison invisible string fish (jellyfish) and wide razor mouthed monsters (sharks). Millions of times I have encountered these terrifying creatures, yet I surf my way on through my life dodging all these bullets and bombs. It's all just a part of having a place to call mine.

A sense of place can be anything. As Wallace Stegner put it, "He is talking about the knowledge of a place that comes from working in it in all weathers, making a living in it, suffering from its catastrophes, loving its mornings or evenings or hot noons…" (Stegner, page 3) For a certain place to be your place, you must live in it and most of all experience it. The waves will always be my place. They are my safehouse, where I fit in, and where I discovered myself.

There will always be the smell of the fresh salty breeze, the immaculate rainbow of color shooting up from the horizon as I wax my board, and most of all the thrill of clenching onto the power of the waves, as I continue this race we call life. In my darkest times, these memories and experiences murder the dark and create light. Maybe she could still be here if she could have found the waves like me. They could flip her life around as soon as her feet hit the board. She just needed to find them first.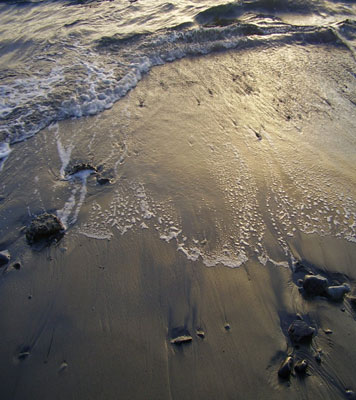 © Tori W., Victoria, BC, Canada