Speedy Rewards
October 10, 2017
The cool touch of the air conditioning embracing your skin after an eight mile run at Wildwood is the best feeling anyone can experience. I joined the high school cross country team three painful years ago and I put in a countless amount of miles in, but every Wednesday, the team travels to the corner Alexis and Douglas Roads to Speedway. The building has dirty floors, but spotless slushy dispensers. We can obtain free fifty-four ounce drinks if we buy enough over the summer. It is worth the money easily. The sweat is dripping down our faces as we pull the lever to try to get a sip of Heaven. As we order, it appears that the team are just hooligans that are causing trouble, but we constantly get compliments from various people who appreciate the kindness and respect we give them willingly. After the team orders, we all walk outside and sit next to the ice cold Arctic Glacier Ice Dispenser. Since we get refreshing slushies there so often, many people on the team receives a red and blue card that reads "Speedy Rewards Membership Card: Fast, Free & Easy!" That simple statement can either describe the sport of cross country and the Cross Country team as a whole.
Fast. When people ponder the idea of cross country, the first thing that may come to mind is the word "fast". During the season, crowds of people come to observe a five kilometer race that may take only eighteen minutes. Why? One possible reason is to support their family or friends. Another reason is to have an idea what the word "fast" actually means in terms of time and speed. During the varsity meets, crowds may only see their child race for five seconds and then they are back in the muddy woods pushing and shoving each other into branches and thorns trying to push each other to their limits before the other runner backs off and gives up. People watching this form of brutality and determination, may wonder how do runners not give up throughout the season. But as a runner, I know that the season also goes by extremely fast. It feels like yesterday that I just began running for the junior high team, climbing and exploring on long, rough vines in the woods and it feels that I was at camp in upper Michigan and running along the glistening lake of Lake Michigan in mid-summer July. I can remember each dirt path I still ran on at camp, the old, beat up cabins named after birds, and the beat up totem that you walk next to while entering the ring of cabins. That is what the word "fast" means to me.
Free. The thought of the word "free" does not usually involve sports unless the word "not" is before it. Sports at any level of play is extremely expensive. The cost of playing a sport can range from a few hundred dollars to a few thousand dollars. After a long and tiring day of school, I cannot wait to be finally free from the jail everyone calls school. Everyone in the jail is so depressing with their blank faces and no emotions are present except for sadness or maybe anger. Once I step on the beat up track, I feel like I can soar through the sky and that I can overcome anything that comes my way. Running allows anyone who participates in the sport to have a sense of freedom from the pain of life. Freedom can come in many shapes and sizes; some people may swim, dance or play a musical instrument just to be free for one minute from whatever may be a burden in their life. For me it is running. That is what the true meaning of freedom is and the feeling of being on the track or course is irreplaceable.
Easy. The grumpy, old man that prevents running from being easy to thirty sweaty boys is named Coach Earl. On the outside, Earl is seen by some as a devil or an evil man who glares at his runners with his black, beady eyes which appears to be soul-less. It seems that he despises the team and has no respect for anyone with his harsh workouts and high mileage, that by no chance would be easy for anyone. But in reality, Earl does make it easy for his runners to succeed and to have an enjoyable time with the extensive mileage plans and team bonding activities, such as, travelling to Speedway or swimming at the quarry. Coach Earl has been a blessing in my life. Without his tough coaching style, my times would not be nearly as fast as they are and I would not have nearly as many friends as I do. Thanks to Coach Earl, my life became a little bit easier through running.
Cross country has made a major impact on my life. The friendships I made will last hopefully a lifetime. Hard work and dedication are also ideas and lessons I learned from running cross country. I am not saying running is the very best sport to participate in, but everyone makes new friends and learns new lessons each and every day. The thought of not being a part of the team is unimaginable and I am ecstatic that I chose to run cross country. The Speedy Rewards Card is a way to express the excitement and love between teammates and how much the team enjoys to be around one another. Cross Country as a whole can be described as "Fast, Free & Easy!".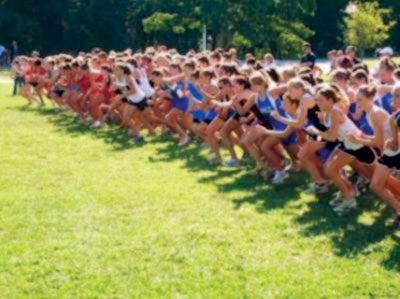 © Ashley R., Charlotte, NC