A Life with Depression
October 10, 2017
Do you see the emptiness in my eyes? I know you can't. It's here, I can feel it. It is within me, as present as salt in the sea. It's here when I wake up- the moment when my eyes glisten open, just to wish they were forever shut. Depression consumes me, but hiding it consumes me even more. It's making sure my shorts are long enough to cover the scars, precisely etched into my skin, the scars that resemble my survival. It's hiding the pile of self help books my mom has bought me, hoping they will bring her daughter back. It's going to church, but knowing if a God was really out there, he wouldn't let me feel this way. I am trapped in a world I never wished to enter, a place of constant sadness. As time goes on, I am used to it. It has become me. Depression is a no longer a mask upon my face, but rather a new layer of skin.

The emptiness is here when you see me busy typing furiously to finish my overdue homework. The homework that couldn't be done the night before, because my hands were shaking, holding all my anger, trying not to scream. My eyes puffy, red, and tired, straining to stay open. I wanted to end it all, but I didn't. My teacher is disappointed, she doesn't know how much it took to wake up that morning. It's here when you see me light up, laughing with dimples engraved on my cheeks. Depression came without an invitation and decided to stay.

I was sitting in the hospital, with nothing but blank, white, emotionless walls when I realized the intensity of my illness. How did I end up here? I told myself I would not ever let it get this bad again, but I failed. I looked up, searching for a clock, but all I saw were doctors whispering, social workers, medical equipment, and a police officer looking at me with a sorrowful expression lying across his face. Hours passed, questions were asked, and tears were shed. Eventually I was led to a place that would be considered home for awhile. It was terrifying- as I stepped in, everyone's head turned. I was given scrubs, socks, and a toothbrush- all my other belongings had to be checked. After weeks of being put through every type of therapy I could imagine, it was time to go home and integrate back into society. The first breath of fresh air shocked my system, like electricity was suddenly flowing through my veins. What a blessing and curse: the ability to forget so quickly. The sapphire sky stared at me, begging for attention- I couldn't take my eyes off it. I searched, studying all of the everyday beauties I had so easily missed. After arriving back home, I realized how much I had to catch up on. Piles of mail, homework, and holiday gifts layed in my room waiting to be opened. Eventually, normality set back in and I begin to fall back on old habits, disappointing everyone around me, but ultimately myself.

My mom has been here through it all. From the countless nights I lied awake in her arms, to the hospital stays, she has never left my side. The color of her eyes can soothe me with just one glance, making every bone in my body feel at ease. Her hands are always there, so soft and comforting when I need love. She was there the night my body shook endlessly, unable to stop. My body had become numb, unaware of my surroundings. My eyes had become dry, for they had no more tears to shed. To anyone else I would have been considered insane, but she stayed, holding me until I could hold myself together.

Although times have been tough, these struggles have made me who I am today. I have a broader understanding and acceptance for things I never had before. Logic sings "What's day without a little night?" in his recent song 1-800-273-8255. After hearing those words I am beginning to appreciate my depression rather than resent it. In the end, everything will be okay, and the world will keep on spinning.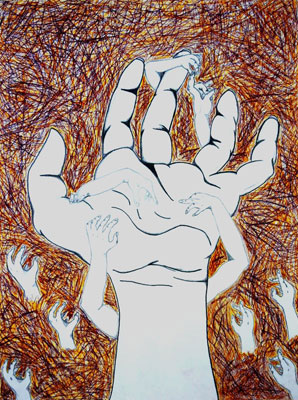 © Ariana R., New Orleans, LA