Watch Out
October 10, 2017
The day was September 15th, 2015; I waited patiently for 1 pm to arrive. Finally, the moment I had been waiting for had arrived. I watched the 2015 Apple Event Keynote as Tim Cook took the stage with hot lights burning his, along with my own, anticipation, thousands of people in the arena, and millions watching along at home as he announced the release of the Apple Watch, the next addition to Apple's mobile technology spectrum that forever revolutionized the way people communicate, track activity, and manage their lives. The product itself consisted of three buying options: Apple Watch Sport in an aluminum case, Apple Watch in a stainless steel case, and Apple Watch Edition in a gold case in two sizes: 38 millimeters and 42 millimeters. I immediately set my heart on the 38 millimeter Space Grey Sport version but waited to make any final decisions. About one year in the future, is where it all begins.

My grandmother and I gradually near the entrance of the modern designs of the marketplace in which I will receive the gift that I had been anticipating for months. The air conditioning blasts us both in the face like a cold winter's morning as we take our few and only steps left unattended by one of many helpful employees in the establishment. The white walls in the only room contain hundreds of thousands of dollars worth of top notch technology that one cannot help but marvel at. Some men and women mindlessly meander around the store looking at products they cannot afford, others simply stare at the one object they have their heart set upon, and children sit at a sleek wooden table that carries iPads on which they entertain themselves. The ratio of employees to customers is rather proportional to the point in which no one was left unattended unless asked not to be. My thoughts shift to subjects like 'Each and every person in his place has a story and a background that I have no idea about. It's beautiful to think that technology has brought everyone together.' I'm anxious to make my choice, as there are endless options to which I have to chose from.

The man we speak with wears a blue shirt with the Apple logo near his right breast, light khakis, glasses, and some rather stylish kicks. He leads us through every step of the way whether it be tutorials, fittings, purchasing, or any questions I may ask. His kind vibe gives us the sensation of comfort and satisfaction, almost as if we were being wrapped in a warm blanket and being told that anything we desire can be accomplished. Not only do his words make my heart smile, but the way he says the words, using his lips, tongue, and teeth to annunciate each individual letter of each word he speaks, his body language, and his general attitude added to the dynamic of the buying experience. To this day, my mind struggles to recall his title; nevertheless, I call him a friend.

I thought this would be a useful addition to my life and I was right at first. My grandmother lovingly pays for my gift as if she had no concern for the price and we make our way to Red Robin for an indulgent supper. After I absolutely and completely devour a succulent, dreamily endless, and truly beautiful cheeseburger, I begin opening the modern-packaged box. The unboxing experience was incredible as the manufacturer truly creates a sophistication in which one unwraps, sets up, and begins usage of this product. I put in on my wrist and carry on with my life.

My Apple Watch is a Series 1 38mm Space Grey Aluminum Case with Black Sport Band. It is important to me because it tracks my exercise and activity throughout the day, manages my day with Siri, calendar, and, obviously tells me the time. I love my watch because it's reliable to manage my notifications and helps me plan my life whether it be for marching band, church activities, my job, or simply just setting aside time to hang out with my friends. Having Siri on my wrist also is dependable for sending quick texts or adding reminders. It's symbolic weight is heavy stress because, honestly, I am busy all of the time. I have a full calendar most weeks and simply looking at my wrist to see my plans for each day really just reminds me that I rarely ever have time for myself or my family and that I am truly stressed deep under my false smile and swashbuckling personality.

Taking for granted what I have is easy to do among everything that may be happening all at once around me in my busy life as if I were being granted three wishes in the midst of a wild hurricane. The overwhelming pressure of satisfying my own, along with others' expectations of my performances, results, and accomplishments generally seem nonexistent while, at the same time, everything falls apart as I try to meet those never ending and irrational intentions. The simple raising of my wrist is a constant reminder of that very statement in the fact that my calendar is displayed on the very face of the watch itself. Although it may seem that I have it all together, my self-esteem, well-being, and soul are slowly but surely crumbling under the stress that I carry, while it may seem light, on my left wrist.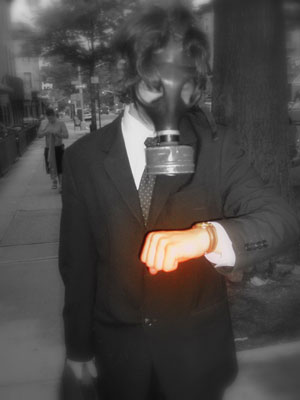 © Zachary P., Brooklyn, NY