A Screen of Convenience
October 10, 2017
What if there was an object that connected you to the rest of the world? This idea became a reality with the invention of the cell phone. I will tell you how this small device affected mine and many others lives. How the technological capabilities of the cell phone connected the entire world and revolutionized the planet. It is the 21st century's counter to the major inventions of the past. This device globalized communication across the globe and connected people to cultures they never would've experienced, myself included. A black rectangle intertwined with technology. Powered by a battery and a face plastered by a brightly lit LED screen. It's used for many vital life functions. This small device revolutionized communication and everyday interaction. From social media to phone calls, from text to Skype. This small device unlocked a whole new world in technology. This invention globalized communication in a way we've never seen before and connected all corners of the world. Therefore, it's no surprise that it's something I carry.

4:45 P.M: I scroll frantically on my cell phone. I am in the airport and terrified that I might have missed my flight. I shove back my perspiration-laced hair and open my Delta app in a ferocious hurry. To my weight lifting relief, my flight leaves at 4:54 rather than 4:45. I calmly approach the gate and boards the jet. My cell phone application preventing an incredible amount of stress. A bustling cafeteria, students all eating and utilizing the capabilities of their cell phones. The reasons for which vary by the person. The girl in the back corner is texting her friend about weekend plans. The guy near the window is texting his mother wondering what he needs to pick up from the store. The teacher is communicating with her children wondering if she needs to pick them up from practice. The boy near the double doors is asking his father when he will return from his business trip. Myself included, texting my stepfather overseas wondering if it's this week or next week he will be back from a six month deployment. This device being an outlet for communication in all of their lives.
The rain pounds against the concrete. The wind wails and the sky crackles with thunder and lightning. These are not conditions in which one should embark. I stand in the doorway of the school and realize I need to find a way home. I pull out my cell phone and dial my parents number. As expected, there is no answer, they are preoccupied with work. I then dial my friend in college's number, my fortunes shift and I now have a way home. My friend pulls up within minutes, and I have mitigated the problem.
My practice is cancelled, the coach is sick and my mother has already vacated the premises. She has to go into work for a late shift. This leaves me out to dry and without an avenue home. However, I use my cell phone to call my friend and ask if he can give me a lift. To my relief, he agreed to what I was requesting. My cell phone responsible for avoiding what would have been a painfully long wait.
In conclusion, my cell phone has played an important role in mine and many others' lives. It has assisted in many tight situations and elevated my daily life. It has aided me in situations in which I would've been helpless without it. This device has globalized communication and helped many others in situations. From simple planning to life or death situations, the cell phone has become a vital tool in our lives.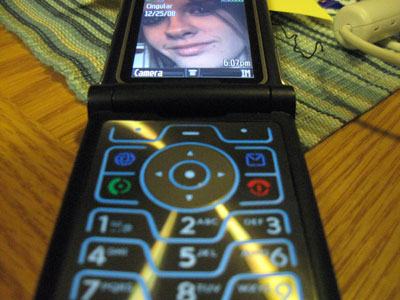 © Adam S., Kingdom City, MO