The Responsibility That Follows Me
October 10, 2017
The ever present weight looms on my shoulders. Wherever I go, it follows. At one moment it can be bright and yellow, and at the next it can be deep red and stormy. It resides in my subconscious where it fights to make itself known. It's that little voice in my head that persists in receiving my attention. It is my responsibility.

Responsibility isn't set in stone. It fluctuates as my circumstances change. My responsibility could be the sharp focus of my eyes on the paved road to make sure I don't initiate an accident. It could be my determination on the fuzzy cheer mats as I'm thrown in the air to help ensure a win. It could also be the feeling of guilt in my stomach and the plummet of my heart when I realize I didn't fulfill my responsibility, and I know in my entire being that I don't want to disappoint again. Responsibility is constantly in my mind. Whenever I am faced with a daunting decision I know it is my responsibility to choose what's right. When I don't choose what's right, my responsibility comes back as the tremor in my hands or the ache in my soul. Responsibility is the shadow that follows me everywhere. I know that I can't shake it. It is something I have to live with and is apart of me now.

When I think of responsibility, I think of driving my sister around in my car. She looks soft and sweet on the outside, but on the inside she is a ball of pure energy. Her looks are deceiving. With her average stature and skinny limbs you wouldn't think of her as much of an athlete. She proves people wrong. Somehow, unbeknownst to me, she is able to catch, shoot, and dribble a basketball with amazing grace. Sometimes she's a comedian, and sometimes she thinks she's the boss. She always wants to be in control of the situation. She's the puppeteer and everyone else are puppets. At this moment, however, she isn't in control. At this moment, she is my responsibility.

Driving my sister on the highway is a real test of my responsibility. The paved road flies beneath my tires and the leather of the steering wheel feels smooth in my hands. Trees whizz by in a green blur. I hear the laughter of my sister in the passenger's seat. She plays a game on her phone while she talks to me. The light hum of the radio is faint and offers a soothing background noise. The sun is bright in the sky and the soft, white clouds dot the baby blue sky. All seems serene, except for the fact that I am carrying one of my biggest responsibilities: mine and my sister's safety. Everytime time I drive it is my job to be alert and to not be reckless. I am carrying the single most important thing, even in the happiest of times.

My responsibility doesn't have to be a scary concept. It can lead me to do my best and to make sure that my focus is on what's important. In fact, I enjoy the responsibility. I know that I am trusted with important things and that's empowering. I earn my responsibility so I know that I rightfully deserve it. The purpose it gives is priceless. I turn that nagging in the back of my head that is telling me I'm going to fail into a sense of encouragement that I can live up to my responsibility. I carry it, so I might as well own up to it.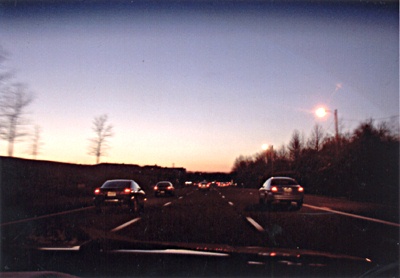 © Carolyn K., Toms River, NJ