My Life in Color
MAG
October 9, 2017
In fifth grade I got my first pair of glasses. I vividly remember sitting in the cold leather chair of my optometrist's office, anxiously waiting for Dr. Ling to bring my glasses to me. I had picked them out a week prior, their frames bright red and the prescription strong. I waited until I was outside to open the bright pink case. I closed my eyes and slipped them onto my face, their bent ends fitting snugly behind my ears. I opened my eyes to a world of clarity. I could see every detail of a nearby tree, and each driver in every passing car. I was so bombarded by my regained sense that an instant headache formed, though nothing could dampen my euphoric mood. I could finally see.
Fast forward six years, and I find myself in a similar situation, anxiously awaiting the unboxing of another pair of spectacles. This time, however, instead of allowing me to see individual leaves on a tree, they will let me see each leaf's pigment. I learned that I was colorblind about three years ago, more specifically that I have a red-green deficiency. Ever since, I had suffered daily interrogations of "What color is this?" from my peers.

In middle school my vision declined significantly and my prescription skyrocketed. My deficiency also worsened, leading to the tragic mismatching of many outfits. In 2015, a company called Enchroma released a line of glasses that could supposedly fix red-green colorblindness. Naturally I desperately wanted a pair, but with a price of $349, I would have to wait and save up.
After many hours working at my local ice cream shop, as well as being drooled on by the plethora of children I babysat, I had finally earned enough for the glasses. Eight business days later I took my unopened Enchroma box to the Gardens, a small museum surrounded by lush flora. I sat on a stone bench covered in moss and surrounded by tall, blooming chrysanthemums. The aviator-style frames were tinted red. I nervously stared at the glasses that I hoped would change my life, at the same time fearing that they would not work. I pushed all doubt aside, took a deep breath, closed my eyes, and slid them on.

When I opened my eyes, they quickly filled with tears. Never had I seen color so full of saturation, then it was gone. It came in flashes. My brain could barely comprehend what my eyes were perceiving. Over time the longevity of those flashes increased and eventually I was living in technicolor.
It was one of the most pivotal moments in my life. I cried tears of pure bliss, for I had just been welcomed into a world I was excluded from my whole life. A world full of color.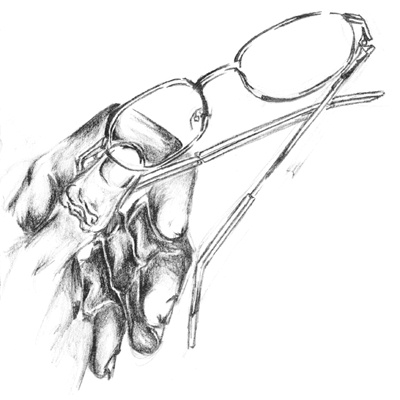 © Omar M., Philadelphia, PA