Importance of Patriotism
October 4, 2017
Tears. Sad tears, happy tears, all mixed in one. The day I stood in the driveway of my papa and grandma's cabin, one hand held my phone while the other wrapped around my grandpa's back. The video played of soldiers silently marching back and forth while their heels clicked the hot cement with rifles in their hands. In the background was the blur of words on a white, marble block. Trees lined the green, grassy hill and touched the cloudless sky on the afternoon of June 20th, 2014.
Silently, we stood watching soldiers repeat their actions over and over. Suddenly, the camera shifted gear to face four scrawny teenagers, waiting for the cue of when to walk. A soldier made his way up the marble steps to join them, and for a few seconds, waited there with a bright, bannered wreath laying in his hands. He began to walk, and they cautiously followed behind him, staying sharp with every step and standing stiff and straight like sticks. My green dress became even brighter as we came into view and the soldier motioned me and the boy standing beside me to take hold of the wreath and carefully place it on the stand in front of the tomb.
I reached out as my hands shook and I was sweating from the hot sun. As we let go of the wreath, we heard the trumpet sound as a soldier played Taps and we saluted. I turned to look at my grandpa standing by my side, and I saw his eyes drenched with tears.
In that moment, I realized the importance of actions we may think are small, but are significant to veterans. That was the first and only time I have seen my grandpa cry, and it made me realize the importance of patriotism. Causing me to respect the freedom and liberty we have due to the brutality the past and present soldiers have endured. My grandpa's tears. Sad tears, happy tears all mixed in one.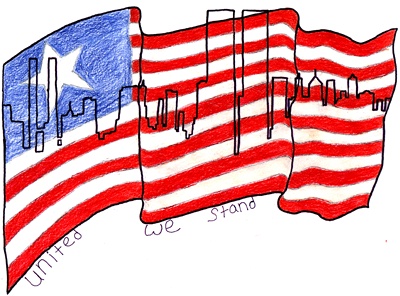 © Casey S., New Lison, WI