A Tough Decision
October 4, 2017
Baseball is one of the oldest American sports and for as long as I can remember, baseball has always been a part of my life. Anyone who watches a sport can agree that they have a personal favorite team and mine is the New York Yankees. I play on two teams and I am fortunate enough to be able to wear both of my favorite players' numbers from my favorite team. Babe Ruth's number, #3 and #24 of the Yankees catcher Gary Sánchez.
Whenever I ask anyone who doesn't like baseball why, the answer I always receive is something along the lines of "It's too slow paced" or "Baseball is for lazy people". These replies are coming from the people who have never ran 90 feet in 4.0 seconds, or dove for a fly ball.

In contrast to their response, I feel anything but lazy. I often feel exhausted and thirsty between my school's team baseball practice and the Wyckoff Travel team practice. Of course this is the last thing anyone wants to feel on a beautiful April afternoon. The worst part about playing for two teams is having two practices occurring on the same day, right after each other. I arrive to my room, out of breath, and find that my mother had already laid out my Wyckoff Travel uniform. I quickly toss my school hat on my hanger and throw my #3 uniform into the laundry bin. The clock is ticking. I rip off my blue socks, and hike up my green Wyckoff socks just below my knee.

"Let's go!" Mom yells.
"I'm going as fast as I can!" I shout back.

I slip into my green #24 jersey and sprint down the stairs. As I swing open the back door, I can feel the late spring heat once again, and hop into the car feeling the humidity. That is my constant schedule every Monday, Wednesday, Friday, and Saturday. The practice goes on and I get a sense of deja vu every time. However, this particular practice was different.

"Remember, Saturday we have a game at 4:00, be there." Coach Hague announced.

'Wait, 4:00? That's the same time as the school game!' Since I first started playing baseball, having two games at the same time was something I have never dealt with before. On both teams missing a practice will get you benched, forget about playing in a game. I am now forced to make a tough decision, represent my school, or represent my home town. In the midst of all confusion and pressure, another realization crosses my mind.

'Why am I doing this to myself? Why am I making my life harder than it has to be?' After serious consideration and from advice from friends, I decided to represent my town in an important game against West Milford. On the long drive to West Milford, I regret my decision instantly. I feel a hole in my stomach after thinking about how I abandoned my friends on my school team. At that moment, I could have never imagined that this was the best decision. As I carry my heavy bag down to the dugout, I still feel the pit in my stomach, which has dug deeper. On my first at bat, I hit a groundball to the shortstop, which ended the inning. This was the worst outcome for my confidence. As I play my position at second base, I still feel the hole in my stomach, which has now become a giant crater, and the guilt was a big distraction during the game. There is a man on first, and the New Milford batter hits a hard groundball between me and the first baseman. I quickly exit my daydream and dive for the ball. I am surprised to find that the ball is in my glove and I snap the ball while still on the ground to the shortstop, who throws to the first baseman for an inning ending double play. As I trot back to the dugout, I can feel a grin across my face and my stomach has been refilled. On my next at bat, I crushed the ball into the outfield which scored two runs, giving us the lead at 2-0. I got 1 more hit that game making me 2 for 3, and we won 5-2. The guilt of abandoning my friends from school still lingered, but my hometown team needed me in an important game and I came through. All in all, I realized that playing baseball for two teams is a lot of work and a great responsibility that not all people are willing to have. However, my love for the game is why I played for two teams.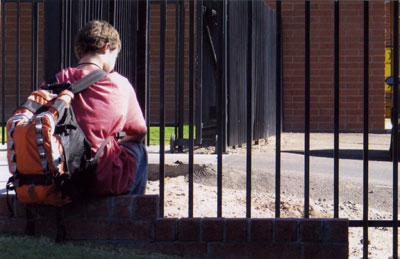 © Molly L., Phoenix, AZ