Pride in Choice
October 3, 2017
Every year I cannot wait for the fourth of July—my favorite holiday, where our town celebrates our freedoms. This holiday makes people feel patriotic and proud of the world we live in. It's a day where people dress festively, and celebrate the rights of Americans.
The holiday is celebrated in the heat of summer, when family and friends crowd around the concrete patio playing tailgate games and cooking barbecue brisket, pork, and ribs. At 10am, my family and I walk into town to make sure we get the best spot for the parade. The kids run around frantically awaiting the candy from the floats. The street is lined with friends and family dressed in red, white, and blue. Houses have banners under the windows and the American Flag waves high above the parade floats. The stars and stripes are printed on t-shirts, hats, and sunglasses. The day is full of activity; first the parade, barbeque, and then the fireworks. In America, I have the opportunity to celebrate the holidays the way I want to with family, friends, fireworks. This freedom of choice is what makes me proud to be American.
The Fourth of July commemorates the freedoms citizens receive in America. The importance of the holiday is lost by people who do not understand the what the holiday truly means. Americans seem ignorant to the rights and freedoms that we have. We act entitled and do not realize the sacrifice soldiers and veterans have made to protect these rights. We go through everyday thinking about what we are going to do not thinking about the freedoms that allow us to do anything we want.
The meaning of patriotism is to have pride in your country. The Fourth of July is a reminder that no matter how we choose to spend the holiday, it is our right to celebrate and take pride in what the United States has given its citizens. It is the freedom of choice that create a feeling of pride, power, and patriotism in citizens.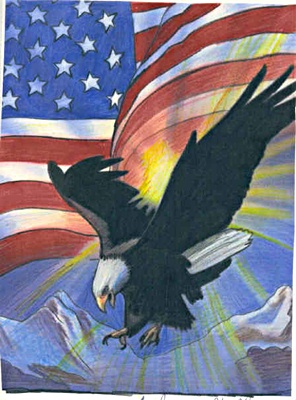 © Andrea G., Middle Village, NY