When I Was a Kid
October 2, 2017
When I was a kid, I thought that the more friends you had, the cooler you were; and so I got as many friends as I could. But as the years went by, I lost a lot of friends. I really shouldn't call them friends. They were just people who used me for a punching bag or a way to get them out of trouble! The ones who stuck with me, they never treated me like someone's garbage. When I was a kid, I made so many stupid choices that cost me more than money or anything in this world; what it cost me was my time. The time I had to be whoever I wanted to be!
When I was a kid, I was drawn towards moonlight despite an armada of adults who said I should set my days according to daylight; but I believed that if I shut my eyes --even for a second-- I would miss out on something. Amazing and I was right. I've seen stars stamped into the night like cookie-cutter designs of the ones who could not hold onto this life! But as I became older, I lost so many people in my life. As these people disappeared around me, for the first time in years I heard my heart and its beat; and I felt something inside me. Then I started thinking to myself : what if everything around me was to go this way?  I went to sleep one night, and I could see the child that I was; but as I awoke, I could still feel my heart. Every time it beats, it just gets louder! The child inside me still exists.
Even today is like that rhyme: sticks and stones will break your bones but words will never hurt you. Now don't tell me that words hurts less than a broken bone; I can make a dictionary or a log out of  the words I've been called . I've heard them all . But when someone say's words can't hurt, I can say, "Out of every word I've been called, I can't find one that didn't hurt less than a broken bone. I have been called them all." The child inside me never forgets.
As a young adult, I still love the night. I like how when you squint your eyes just right, stars look like porcupines stumbling around dipping their quills in to the night sky and writings apologies for all the unanswered childhood wishes.
Every gauntlet I ever ran was a potato sack race in which time would chase me towards an end. And there ain't no winning any race against yourself; slow down. And when the kid in you falls, pick him up, dust him off. Trust me you are going to need that kid to remind you that every weed is a flower just trying to make things work. Every time you hear your heart beat it is like a door knock, that kid's way of asking, "Can you please come out and play?"
We will never lose the child that grew up inside us. This I believe.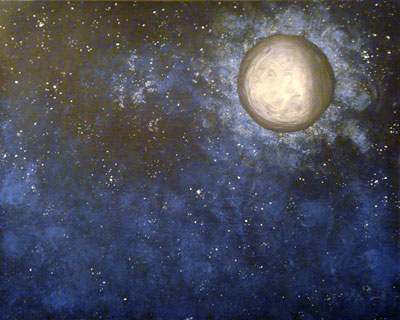 © Allison H., Vancouver, WA