One Pho Three
September 30, 2017
The light shone through the window like a star on that dark, breezy night. Our feet dragged across the concrete, and we slowly made our way towards the restaurant. We were craving whatever we could get our hands on at this point. The moon slowly climbed its way into the sky and the dinner rush soon came barging in without any invitation. The mob rammed through the door and the quiet, peaceful restaurant turned into one with a cacophony of voices that flooded the whole street.

The aroma of asian cuisine was nestled into every corner of the restaurant. Wow, I thought. I had never been to Simply Vietnamese during dinner time. It felt as if all of Tenafly had come to eat here tonight. Friends had come to share a cold corona and others had come to get together to enjoy the beginning of their weekend.

My friends and I were first in line. A short waiter quickly scurried to us, his notebook in hand from the last customer he had just catered to.

"How many do you have today?" he asked me in a slight Mexican accent.

The light on his earrings danced each time he moved, and his amiable smile lit up the room. I smiled back and curtly replied, "three," and he motioned for us to follow him.

We followed him like ducklings as we made our way to a booth. We all sat down, and instantaneously looked at the menu. No one had bothered talking because we already knew what succulent dishes would soon be placed before us. We all glanced at the menu, and my eyes almost popped out of their sockets. The pho costed twelve dollars each. There were three of us, and there was no way that we could afford thirty six dollars in cash. Silently we looked at each other, not knowing what to do. I checked my wallet, but it turns out money doesn't appear out of thin air.

We all sat there in defeat, preparing to leave at any moment. The waiter brought us chips as appetizers, and we munched on them until every crumb was cleaned from the dish. As we sat there I finally decided to break the silence.

"Guys, why don't we just get one pho and two more extra noodles?"

Everyone's face lit up. It was an ingenious plan. The portions of noodles to soup was always 1:3 so why not just share the soup? The extra noodles were only one dollar extra anyway, so why not? It was the most thoughtful way of saving money I had come up with so far. We quickly called up one of the waiters and ordered the pho.
Two minutes felt like two hours, but finally, the steaming hot pho and two plates of extra noodles were finally lowered onto our table. The side dish of fresh served cilantro and lime filled every inch of our nostrils as we poured the soup into our separate bowls, careful not to waste even a single drop of the salty, golden liquid of deliciousness.

"Ah I'm so full," sighed Daniel as he lapped up the final drops of the broth.

Everyone laid back in their seats preparing to leave, however, one person didn't look satiated, and that was Mino. Mino sat up, his stomach still growling for more. He got up and no one knew what he was doing. He went up and said something to the waiter, and two more free baskets of chips came heading our way.

"How'd you get that?" we all asked and Mino just smiled with a twinkle in his eyes.

We all ate and left. I was full and so was everyone else. I hate being stingy, but when it comes down to situations like this, I won't hesitate to save a little money.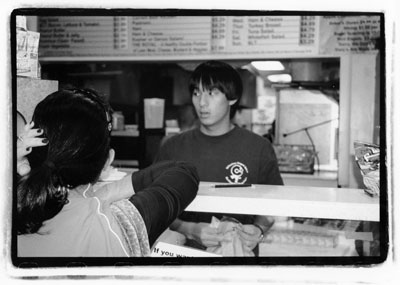 © Rachel D., Bethesda, MD