February 11th
September 29, 2017
Friday, February 10th, 2017. My Spanish 1 teacher had announced that if we came to school the next day for Saturday school she would allow us to make up missing work. I was struggling really badly in that class, not because I didn't understand but, because I forgot to turn in online work quite often. I didn't know it then, but signing my name on that paper and showing up the next day was going to become one of the biggest mistakes I'll ever make. And now I probably have you thinking, "What? Why would you call that your biggest mistake?" Well, I'm here to tell you to be careful with who you think your friends and always watch what you trust others with.
I won't say his name, but he was a good friend of mine. He was only recently developed into a good friend. Unlike me, he already spoke a little Spanish and understood some things more than I did. He would help me with my work and influenced my music taste so much. Told me that if I didn't listen to the band Iron Maiden we couldn't be friends. So me being the silly child I am thought, "Oh no! I have to listen to them now!" So I went home and listened to them. And I have to admit, I fell in love with the band. What we had was a beautiful friendship, but it is long gone now.

The morning of February 11th came and everything was completely normal. I went to class to make up work. My best friend Nicole was there that day too because her boyfriend was performing for band. Along with Nicole was my friend Sam and Damien. We were all in the Spanish room working together and the boy who once was my friend showed up and he joined our group. We all left to watch Nicole's boyfriend perform, but soon after only him and I returned. We continued working until he asked me if we could walk and talk and that he meant to talk yesterday but, didn't have the chance. So I thought to myself, "Oh no, hopefully he is okay. I'm here if he needs help getting through anything." Well I thought so wrong, nothing was wrong with him at all.

We walked down the T shaped hallway on the second story of the Foreign Language building. On the horizontal part of the T, I turned right to go down the stairs and he stopped. He asked, "Where are you going?" And I responded with, "Walking and talking..?" And he said, "Let's go this way," pointing left to the other end. I hesitated a bit because it was a dead end and I thought that wasn't really "walking" and talking, it was just...talking. But, me being me I went anyways.
I got closer to him and he shuffled his feet around me so that now I was with my back to the wall and facing the other end of the narrow hallway with one thing blocking my path...him. I started to get nervous. He then said to me, "Hey, listen. I can't keep this from you. And I know you like that one dude, but I like you and thought maybe we can be something more." I politely turned him down by saying, "I'm sorry, I don't feel the same way." He then looked kind of upset, but not heartbroken upset. Angry upset. And I understand getting rejected hurts and is upsetting but, no means no. He then starting telling me things like, "We don't have to be dating, just something special," or "we can be lowkey, no one has to know." I still said no, and I gave him not even a full hug. It was one of those awkward, one arm barely touching, pat on the back hugs. Just in apology to say, "Hey, sorry I don't feel that way in return." During this hug, he wrapped his strong arms around my waist. And it felt as if he was crushing my bones and along with that he crushed my heart. My state of mind. Sent me plummeting into a world I thought was long gone. He had kissed me…

He kissed me and it didn't stop, I tried pulling away but couldn't because he was wrapped so tightly around me. I was using my arms to push my body away but, I was going nowhere. I didn't want to be kissed, I turned my face away and he started kissing my cheek and down my neck and I began to shake. Uncontrollable shaking. My eyes started to tear up, but I swore not to cry in front of him. He let go and I just dropped to the floor and crawled backwards to the wall telling him to stop. He asked me what was wrong and I told him that he already knew what was wrong. He said, "You don't have to be afraid of me," in that low haunting voice. And I shook my head in disagreement and told him, "You know why I am afraid. I've told you why this scares me a long time ago, and you still go through with it." I then got up and thought that while he was leaning on the wall I would make a run for it, but when I tried that he just grabbed me and held me locked in his arms again. This time with my arms bolted down to my sides. And he went to kiss me again and I turned away, trying to pull myself away. He again kissed down the side of my face to my neck, but this time was different...this time his right hand moved up and down my lower back. Getting lower and lower. I couldn't take it anymore. I was dying inside. I wanted to scream for help but, I was so afraid of him hurting me and there was no one in sight. I was hopeless..but then, he let his tight grip go just a enough to where I could break free. I pushed back and ran to the stairs.

I was almost near the bottom when I heard him call for me from the top. I turned to look at him and he asked me where I was going and I told him, "To find Nicole." He then asked what I was going to tell her and I just shook my head no in disapproval and gave this broken smile that just read, you know what you did was wrong and you're going to regret that. I then ran all the way to the theatre to look for Nicole and her boyfriend. There were a lot of people, band had an event with several schools, there were other kids from saturday school, and something for FFA. All of these people were just giving me looks like I was crazy. Picture it, a young girl frantically pushing her way through crowds. Looking terrified and on the verge of tears. Shaking. Then a ray of sunshine... Nicole. I see her and I run to her. She immediately sees something was wrong. She asked what happened and I just started bawling my eyes out. Gruesomely sobbing. I was shaking like I was in the Arctic, in below zero. But, it wasn't cold at all. And I fell to the floor crying in the middle of the path way. And she went down with me freaking out asking what was wrong and I started explaining everything. But, it was just crazy, I was talking at the speed of light and everything was jumbled. I was so gone.

Damien saw us and asked what was going on and he was not happy at all. They both instructed me to call my mom, so I did. My mom didn't even let me finish explaining. As soon as I called her crying and said the words, "He kissed me.." She said, "Dad is on his way." A lot more happened with the event that day and police were called and it was such a disaster. I went into shock for the first time. I felt delusional, nauseous, numb, and so much more. And there is so much more that I could say and write about, but that'd be pages long. So I'm going to stop there and just tell you that it ended in a suspension on his part for 3 days and he has to stay away and not talk to me ever again. And his classes were switched and this year mine were switched because we were put together again. I will never forget Saturday, February 11th, 2017. It's a part of me.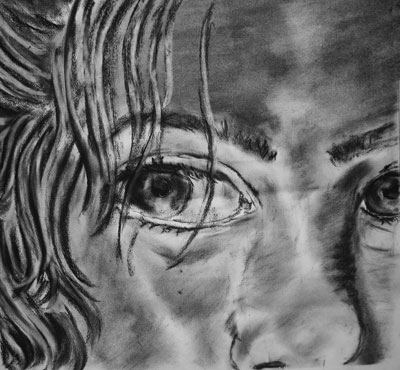 © Brooke W., Weston, MA