The Girl Who Never Did Anything
September 26, 2017
As a young girl, I despised projects. The ones that required creative effort weren't the best. I ended up working on them last minute and didn't put much effort until I was assigned on that made me wish I had worked on it more.

4-H stood for head, heart, hands, and health. It has about six million members, including me. I was genuinely ecstatic. It seemed like a good way to teach us about agriculture and nature so I was intrigued. They mainly talked about what they stood for, their purpose, and their pledge. It was a good twenty-minute rundown on 4-H. As they were coming to an end they told us about a project; We had to do a poster board based on a country of our choosing. I thought it seemed like an interesting project but little did I know I would soon hate it.

It was a workday for us fourth graders. We had to pick a country for our step; I decided to pick on a country that I knew nothing about to make it interesting so I decided on the Philippines. I believed it was going to be easy but it's difficult to work on a country that you know nothing about. The class spent about three weeks working on it. The students had more information than me, I only had the name of my country, language they spoke, and their capital which is Manila. I bought the poster board to work on in class to help me get farther, it didn't.

As the weeks past, I didn't have any information on my work. I had twenty hours till it was due. My mother knew I had a major project due .She helped me sometimes till she found out I did it last minute. She gave me a stern lecture and was disappointed in me. So, I had to work on it by myself. I glued every picture with a colored boarder behind it. I began to feel sleepy but I put forth to keep working.

The day of the presentation is a day I want to forget. I had to stand in front of adults in a classroom. I was dressed presentable with Khakis, a cardigan, and a polo shirt. As they called me up I stood there with my poster in my hands. I got up and explained to them my poster. It was a sad looking piece of cardboard. I barely had any colors, you could tell I rushed by looking at how badly my pictures were cut out. When I began talking the judges could tell I was nervous by my voice shaking.

By the time my nightmare was over they handed out awards. Respectively I got nothing but most of my friends did. I didn't do my best which I understood. I wasn't angry or sad by the end of the day, I was just disappointed in myself.

Since then I began working on my projects they day they're due. I don't want to relive what just happened ever again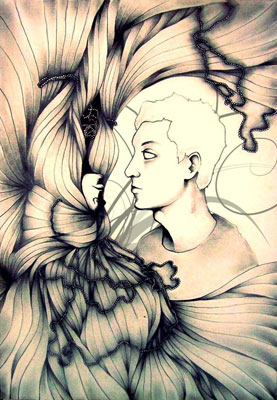 © Victor K., Las Vegas, NV