My Grandpa
September 26, 2017
As a child, I was a curious kid, so one day I asked my Grandpa if he served in the army at any point in his life. He answered yes, I asked if he'd ever fought in a war. I could tell by the expression on his face that he did. My Grandpa then went on to say that he was brought to Vietnam in 1961 by a plane and he had to fight against many people. What my Grandpa told me changed my perspective on life and taught the most important lesson I've ever learned.

My Grandpa and I would spend our spare time at history museums. We would look at the weapons, exhibits, and paintings. When the director of the tours would tell everyone to move on, my Grandpa, frozen in memories, and I, thinking of the horrific events, remained there. I would gaze upon the paintings and create these mental movies in my head with everything and everyone frantically moving around, trying to survive.

Again and again we would visit the museums, and every time we got home, my Grandpa would stay in the car with his head on the wheel. I would ask him if he wanted to come inside with me. "Go ahead I'll be in, in a bit," he said almost every time. Before I walked through the door, I would turn to look back at him and see how much effort he put into trying to hold back the tears of the friends he lost so long ago. But I never once tried to comfort him, as I knew he need to overcome the challenge that has been haunting him for more than half his life.

I'll never forget what he made me promise, "Evan," he said as he set his hand on my shoulder and kneeled, "Please promise me that you'll never kill anyone and treat everyone as if there your friend. I don't want you to live the life I have. I want you to life live to the fullest of your capability and live with as friends as possible." He said with tears pouring down his face. "I promise I will, Papa Bobby." I manage to say with my eyes watering.

The following day when I was at daycare and I felt the faint nudge of something on my leg. I looked down and saw the ball I would steal from the group of kids playing with it. They looked down with sadness in their faces, but they brightened up once they saw that I kicked the ball back to them and I began to play with them for the rest of the day and I started to call them my new friends, as we hung out and played for the days afterward.

Even though some people can be disrespectful and rude, I still try to be friends with everyone that I can. I will always try to live up to my grandpa expectations and the promise I made to him.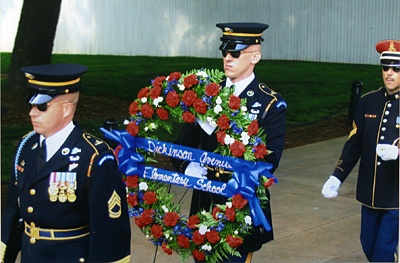 © Alejandra D., Milford, CT