What It Takes to Help Others
September 26, 2017
Typically summer is highly anticipated by kids and students across the world as something fancy-free and fun. However, in reality, most kids stay home and seclude themselves from society. Teenagers everywhere drown themselves in virtual realities and avoid the outside world at all costs. Although this isolated technology use is becoming the new normal- there are still kids who manage to escape the statistic and get out of the house during the summer.

Over this past summer, I had the opportunity to take an out of state mission trip with my youth group. Most days while we were there, we followed a tight schedule with not much room for any deviation. However, one afternoon, we realized we had double-booked ourselves and we had to decide between going to the community nursing home and doing yard work for local places in the city. None of the kids in our group were jumping at the chance to go sit and chat with the elderly. The idea seemed to actually make most nervous. What if they were hard to talk to? What if they didn't like us? What if we didn't know what to say? So many worried thoughts were running through our heads. Despite our nerves though, the adults in charge made the decision for us. The nursing home it was.

Statistically, teenagers show less developed social skills than ever before due to a dependence on technology. Kids have spent more quality time with their phones than they have with other people, and this causes them to have a harder time when it comes to interacting with others. So naturally, everyone was very apprehensive about the idea of going to talk to the elderly residents. The moment we stepped inside, you could have cut the tension in their air with a knife. Thirty socially awkward teenagers against around sixty elderly men and women eagerly awaiting the arrival of new faces. Someone finally broke the silence, slowly stepping further in the room to go speak to a woman right in front of her. Then, others following suit, everyone started trickling into the room and kindly approaching the residents. The residents' faces glowed with excitement every time they met someone knew. Their joy helped all of us feel better, and the tension in the room seemed to lighten.

Despite the obstacle of our generation having a harder time conversing with others, once we moved past our fears and spoke to those men and women, the pure elation on their faces showed us that every moment of uncertainty was for a good cause Sometimes people have to move past their own fears in order to do something that helps others.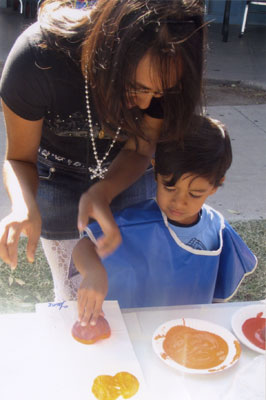 © Melinda M., Phoenix, AZ