4th Quarter
September 26, 2017
"Deep ball down the left sideline…..juggled and dropped" My heart sank as I shamefully jogged back to the sideline after dropping yet another pass. I glanced at the scoreboard and felt sick 0 – 21 springtown.it should be 16-21 I thought to myself.

I dropped two passes I could've easily taken to the house that game. The first one was a three step slant at the five. I was wide open but the ball was thrown high and behind me. I lunged backwards awkwardly, my fingertips barely grazing the ball as it zipped past me.

The 2nd pass was a stick route. When the play started I took off down the sideline. The poor corner didn't have a chance to catch up. The safety however rushed over to cover me as the ball was thrown. It was a beautiful spiral perfectly placed where either I caught it or it was incomplete. I jumped as high as my legs would let me. I reached for the ball with one hand but I couldn't bring it in. I juggled it for a moment but in the end I dropped it.

Then came the 4th quarter, team morale had hit rock bottom. An injured player started giving us hope saying it was comeback time. We got the ball 35 yards out from the end zone. The QB hiked the ball and I took off downfield. I caught the ball and was dead set on scoring. "Touchdown colts"

Springtown drove down the field and was about to score but we got a pick and got the ball at the 2. My heart was about to beat its way out of my chest I knew the ball was coming my way. There was only a little over a minute left in the game. When the ball was snapped the corner pressed me and even though I couldn't out run him the QB still threw me the ball.

I jumped as high as I could but I couldn't get to it. We lined up again as fast as we could and ran the same play. I jumped up over the corner and caught the ball off the top of the corners helmet. As I sprinted down field I could hear the silence of the Springtown stands and the eruption of the away stands. It was as if time slowed down when I crossed the finish line. Ever since this game I have never given up on anything no matter how impossible it seems.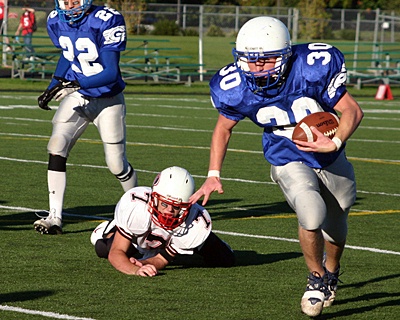 © Rachel K., Gresham, OR