Know Your Friends
September 25, 2017
My whole life I have had the same best friend, and her name is Stephanie. Our families were always somehow connected either by us or since my older brother is in a relationship with her older sister Ana. Growing up we told each other everything. It was normal.

In 7th grade is when everything changed. In the beginning of that year I started telling her about this boy I was interested in named Chris. We started hanging out and Stephanie instantly became jealous. I didn't see the reason for this jealousy, all i was thinking about was Chris. Around November we started going out but I would still hang out with Stephanie at my house. It was my first relationship so I didn't know how to balance my friends and boyfriend. My whole relationship she would say things like " I dont think hes good for you". I brushed it off because I didn't see anything wrong with him. And for some reason at the time I didn't have a problem with how she was talking about him.

Almost a year into our relationship he cheated on me at his sister's party. I, of course was devastated. I immediately told Stephanie since i trusted her with the things going on in my life. She thought it was okay to include the counselor into my situation. Maybe if she would've asked me first I would've went through with it.
Two days later I got called to the counselor's office. I was really confused because I'm never needed in there. Ms. Leo, the counselor, was sitting in her chair and asked "Can you close the door?"

I closed the door and thought I was in really bad trouble.

She spoke in a really calm voice saying "So, one of your fellow classmates has shared some information and I just want to see how everything's going for you"

"Im fine." I said kind of rude, wanting to know who told her. I suddenly thought of Stephanie because she was the only person I told. Our conversation was really dry because I was uncomfortable.

When I got back to class I had an awkward feeling because I sat pretty close to Stephanie. I was furious with the fact that she had just talked about my personal life without me knowing. Before school ended that day I decided to ask her If she told anyone. She denied it.

In a cold tone she said, "I don't know why you believe I'd do this to you Gissel". Soon I found out that she had told the whole school about me being cheated on and also some of my deepest secrets unrelated to that situation. I was pissed so I brought this to my mom and my brother Danny who is in a relationship with Stephanie's older sister. They talked with her family and sorted everything out.

I never wanted to speak to her again. So I never did. Feeling betrayed by someone you're close to hurts a lot. Even though our families are close I kept my distance from her because what she did to me could've happened again.

I realize now that I should be more careful with who I trust. This situation did influence my choice in friends. I know that even your closest friends can turn their back on you real quick.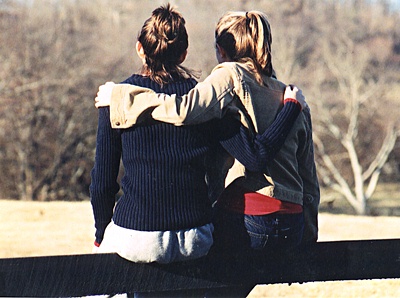 © Jaime M., Wichita Falls, TX