Going Home
September 6, 2017
"And grace will lead me home." We stepped out of the car facing the elegant building awaiting us. The clear sky was like the calm before a storm. The sun was shining and with no clouds in sight, the white building blinded us thanks to the sun reflecting off the marble. Two broad doors opened out towards the street and as we stepped through, it felt like reality shifted from the calm outside to a tidal wave of emotions on the inside. After signing our names in the book that will eventually serve as a reminder of all who came to remember Joann, my parents walked up the aisle to her casket. My mom was crying before she made it halfway. I waited in the back with my friend. I can't do this. I can't walk up there and keep myself together. My mom needs me to be strong, but I don't know if I can do it this time. My thoughts raced through my head as I slowly began to build the confidence to face the dreadful task awaiting me.

As I started walking up the aisle, I noticed that the casket was a baby blue. A memory flashed in my mind about the time when I was no older than four talking to my grandparents about their favorite colors. My grandma's was baby blue and I thought her casket was very suiting for her. As I continued walking, another memory came to mind. I've been here before, thirteen years ago, when my grandpa was the one being buried. Upon reaching the casket, I forced myself to look. Once I saw her face, I thought it wasn't her. She didn't look like herself with the way her hair was fixed and this was the first time I've ever seen her wear make up. Soon, I realized that it was her and for the first time since her death, I began to accept the reality of it. I looked at the clothes she was wearing and remember them being a gift from last Christmas. I noticed there was sagging on the right side of her shirt and remembered her battle with breast cancer. As I was remembering these things, my brain began to play tricks on me. It appeared that her chest was slowly rising and falling as if she was still breathing. As much as I wished for this to be true, I had to accept the depressing reality that she will never be here again. I pulled myself away from her casket and walked up the stairs to a little sitting area. This is where I spent the rest of the time until the service began. I sat in a fancy looking chair that had a high back and cushions that sank when you sat down. Here I watched my nieces and nephews run around without a care in the world. Their innocence made me wish I could be here without an understanding of what was going on, but I had to be here and I convinced myself that I had to be strong for my mother.

The two enormous grandfather clocks struck twelve and brought me out of my dazed, daydreaming state. It was time for the service to begin and everyone began to sluggishly drift to their chairs. Over the speakers you could hear the beginning of Amazing Grace and the sound of the crowd as they began to hush. As the song played, for what seemed like hours, holding back tears become harder and harder until it was almost impossible. After the song, the priest lead us in prayer and then spoke a few words on behalf of Joann, my grandmother. Three more songs played and in between each the priest would speak, whether it was telling stories about her life, offering help to the family who lost a dear loved one, or thanking God for the time we had with her. One by one each row began to walk up to the casket to see her one last time. As this happened, the room was suddenly filled with noise. You could hear the awkward shuffling of feet, individual prayers being said, the family sobbing, people giving their condolences, and then you could hear the two large doors opening as people began to make their way back to their cars.

After saying goodbye to my grandma for the last time, we went back to our car and began the journey to the cemetery. The consistent ticking from the hazard lights distracted me for the duration of the drive. Once we arrived at the cemetery, I watched as cars lined up. There was a steady sound of gravel being kicked up, cars being shut off, doors slamming shut, and people beginning to form a crowd once again. As we gathered around her grave, the priest brought us all together with a prayer. The baby blue casket shined as bright as her blue eyes did when she was alive and well. Suddenly, you could hear the local hunters firing their guns and another memory forced its way into my thoughts. It brought me back to when I was only four years old and my grandpa was being buried right next to where my grandma is now. He served in the military and had a 21 Gun Salute here. As people began to stand and walk back to their cars, I realized I missed everything the priest had said during my flashback.

As the people who came to show their support headed back to their cars and left, my family remained for one last goodbye. As my mom sat on the ground crying, I hugged my friend as a way of thanking her for coming with me today. My dad led my mom back to the car and my brother followed them. Before leaving I walked over to where she would soon be buried and said "Grace will lead me home."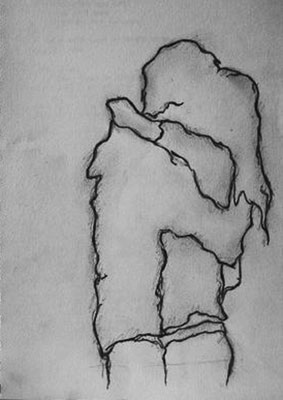 © Nicole B., Newcastle, WA