Almost
August 3, 2017
How do I tell you I'm hurt without sounding clingy?
How do I show my love without sounding jealous?
How do I tell you that seeing her take my place, my importance kills me?
We were never a thing. Never a couple, never the pair madly in love with each other, never the ones obsessed with another's mere eye flutter, never the ones that looked at each other like the universe stood before us. No, we were never in love. No, we never fell for each other.
But darling, didn't we almost? Weren't we almost in love?
A rainbow that didn't quite touch the ends of the sky, but there, alive: our love. We had our  moments though. Moments when a future together was a dream that could be true. Moments when you held my hand a little longer. Moments when I looked at you for an eternity, for a time too long for 'just friends'. Moments when you meant those playful 'I love you's. Moments when I stole glances just to see that smile of yours. It was a lot more than friends, and a lot less than love. But it was an almost. Almost love, wasn't it?
But time, oh time, and the games she plays. Moments where we felt love for each other but each of these moments, moments apart. I believe we knew, somewhere in the corner of our soul, what we felt. We knew our constellations aligned just right, that our hearts beat with the same cadence. We knew, we knew, we knew.
Oh, but our timid little hearts! Fear throws two people apart just as much as it brings them together. Our hearts, too afraid to break that delicate thread that almost existed, whispered nothing but empty sounds. We knew all of each other's secrets, but the deepest, darkest, biggest one we never knew was us. So afraid, weren't we? Afraid to lose these 'almost's that we died to feel, to live. Afraid we'll lose whatever we have, this vague thing, to love. Afraid that love won't be enough. But maybe this almost was enough: enough for two teenagers too afraid to love each other.
Maybe that's why it's easier for you to love her, and easier for me to watch you do so. I'd rather fall apart each day than give up these small moments that make me fall back together. And I know that our 'almost love' won't survive long. I know that someday you'll hold another in those arms where I longed to be and I'll call another man mine: a word you longed to belong to. Maybe we'll both find a 'complete and whole' love, a love far better than the bits and pieces of our 'almost' but I know, whenever I'll think of you, I'll know "Love has been good to me".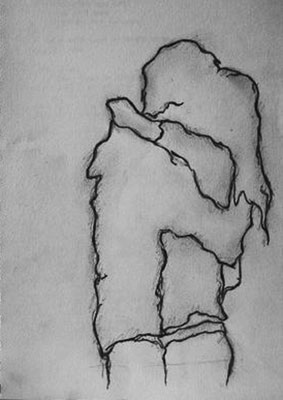 © Nicole B., Newcastle, WA