From Russia to America
July 19, 2017
This is my 5th year in America, and I was never born in America I was adopted ,this is my before story… July 29,2006. I woke up tired and bored, I had actually falling asleep in my clothes, so I just wore them. I ate breakfast, oatmeal, toast and my drink was raw eggs. Then after breakfast I stood up and my mom came to me crying and said, "Alexander go pack ALL your stuff," in a sniffle, sad way. I didn't know what was happening, so I did. My mom and dad gave me a hug and my 3 week old sister a kiss. Than 4 police officers came in took my sister and me.We got into a police car, and that was the last time I ever saw my birth mom ever again.

That day in the car I saw a big 3 story building, tall, brick, red. We entered the building, I looked around and I saw, the floor was white tile, walls were clean white dry wall, and the stairs were black painted wood with metal rails. There also stud a nice girl leader how was my first orphanage leader. Then as I looked behind a saw a leader playing with my sister while taking her to her room.

As I walked up the stairs, the railing felt smooth and shiny. We got to the room and I was greeted in joy be others. As I was greeted, the leader said, " time to eat, why don't you set the table Alexsander." I set the table and we all sat down to eat the teacher passed out the food and we had a lot of fun eating.

2 YEARS LATER.
I had to move to another orphanage, before I left I gave everyone a hug or a high five and then I came out with the building and got into the cop car with me as 5 and my sister as 2. The ride was 5 hours long, and I never slept on the ride, and then we arrived at the orphanage, as I arrived I could already see my leader and my class ready to see me and greet me. As I saw them all, it made me feel like a pot of gold and a Rainbow. This place already looked more fun, as soon as I got out of the car I ate 3 bowls of coshca( a Russian sweet oatmeal) and then I went outside and the leaders brought out three big boxes of records, and we got to chuck these at a brick wall that was red, white, and lots of black scraps from the records smashing. There was also lots of tiny pieces in the wall, and the first one I throw was right at someone else's, my record had a big chip in it my friends was demolished. At 7 months in the orphanage my leader came and said, "someone to here to see you Alexsander", so I ran right down stairs in joy and happiness. As I got to the bottom my dad came to greet me, but… I didn't know how he was sadly, and I never told him. ½ A YEARS LATER I had moved again. At the last 4 month of my third orphanage my current mom and dad came to see me and my sister. This is where my life began.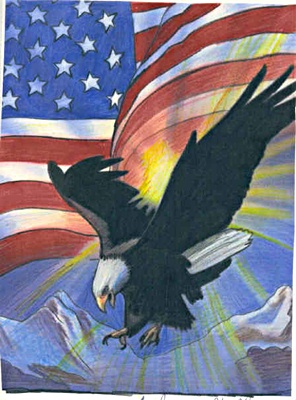 © Andrea G., Middle Village, NY