Who We Were
July 2, 2017
All we ever wanted was to have fun, right? We were different. We were just people trying to survive in a society that didn't want us. A world that didn't want us, actually.

We wanted what we could never have, we dreamed of living in a world we could never truly imagine. We were like the fall season. We were the trees on the brink of death, people admired us for our beauty but didn't realize what our fate would really be. And if they did, they would never say anything.

They would never understand us. We had so many feelings, so many loves and passions and desires but to them, it wasn't real. We could never have anything that was real. They would always think they had it harder than us because overtime we had become good actors. We learned how to hide what we truly were deep inside, we locked ourselves in a cage like a monster. We were never monsters, we were caged doves. We just needed to be set free.

I had been set free. All of my problems, all of my sadness and hatefulness were put away. For once I saw the light in a different way. I was alive. It didn't feel real, so I doubted. I didn't think that I would ever be good enough to have something like that. I was right. My heart was broken for the billionth time. Like a helium balloon in the open air, I was lost, destined for extinction. I loved him. I loved him with everything I had and I hated myself for it. I should have known to never love anything that could be taken away from me. But boy was it worth it. For the tiny moment that I thought it was real, it was beautiful. Our love was beautiful, but not good enough for him. He moved on without me because he saw me for a monster and not a dove. I feel bad for him because he would never understand what we were.

My people were never broken. We couldn't be fixed, we couldn't change, we were born this way. I pulled him in like a predator, his innocence was the prey and I was hungry. In a few years, he won't be remembered. None of them will. My people will be the ones who will be remembered. We changed the world's perspective of love and hate because that was what we were. We were either loved or hated, pitied or admired. They would cry for us. They'd smile for us, they'd feel for us. By that time we will be gone. A name on a paper, a picture in a picture frame. A speckle of dust on a shelf.

Our story isn't so sad though. We had our moments. We were happy when we were together. We saw life from a different perspective, and for that we were grateful. We lived in the moment, and like a sponge we absorbed it. Every emotion hit is like a train, we cried at the beauty and we cried at the ugliness. We ran barefoot under the moonlight and danced to sad songs around a fire. We enjoyed the sweet songs of summer at dusk and the harsh whispers of winter in the morning. And to the people who ever defied us, to the people who left us with our hearts broken, and to the people who just never gave us a chance, we're sorry. We're sorry you never got to live like we did, we're sorry your life was so boring, and we're sorry for your stupidity. It's such a pity. While you watched the movie we were reading the book. It took us longer, but we enjoyed the story you hated because we picked up all the details you didn't. But that's just who were are.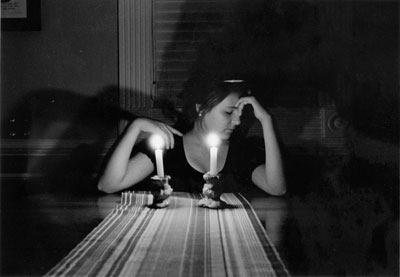 © Eleanor K., Bethesda, MD