When a Person Molds Into a Home
June 18, 2017
An isolated childhood impacted me in ways unthinkable. I was born into a serene, very private home on the fringe of Flower Mound, Texas. The lake was practically at my doorstep. All seems picture-perfect, until you put the puzzle pieces together. I was the only child of two, long-hour working parents. An alienated neighborhood meant an absence of childhood friends, which counted for lots of loneliness. I craved someone to be delighted with my drawings, stories, and other hobbies I had. My parents thought I was just silly. They were determined to throw me in sports, and that I was very impassive about. They would constantly joke around saying, "our family's never had any artistic talent," without realizing those words penetrated every bit of hope and confidence I had in myself. After years of lacking support, meeting my best friend lead me to pick up back on those hobbies I loved most.

Throughout my childhood, a day to me meant a lonesome day of taking a long, unaccompanied walk in my disconnected, noiseless neighborhood, or passing the time in my room writing about silly concepts like personified animals, magic, and endearment, dreams of every little girl. I was infatuated with music, drawing, painting; more broadly, I loved creating things special to me. There were countless incidents of me tapping on my father's chestnut, wooden door, which felt like to me like a massive, towering wall, locking me out of that father-daughter relationship I desired. I was always full of eager to show him something I had spent all day working on, only to be shooed away. That was soul-shattering for me. Some days I would even linger outside that barrier of a door, watching the sunlight seep through the gaps, and hope he could have breaks in between calls. My mother was a bit better at showing me some appreciation for any ability I could have had, skimming my work and saying with obvious disinterest, "that's nice!" My heart sank a few more inches every time I'd hope for the proud acknowledgements I'd dream of from my mother and father I wouldn't receive.

As time went on, my optimism plummeted. My self assurance had vanished. I felt as if the things I were so passionate about weren't suitable for me. The insecurity seeded itself in my soul and sprouted until it was fully grown and its' confining veins restricted me from glorious opportunities. My self consciousness soon affected me in everything I did. I became withdrawn from classmates, I wasn't confident enough to believe it was attainable to strive at the subjects I did, which showed up a lot in my grades. The dictating power insecurity holds over you is devastating for a child. I thought insecurity would rule over me forever.

Fast Forward many years of agony to my sophomore year of high school around September, fall was moving itself in. The leaves started to transform into the most beautiful rustic-orange shade and fall to the ground as the days went on. I was put into an english class that would leave a footprint on me eternally. I was an introverted student that still had a heavy heart for English. I admired my teacher very much but would sit at the back of a class full with thirty students, never once speaking out, though I had a tremendous passion for the concepts and stories we'd discuss in class. I felt as if everything I always wanted to say wouldn't interest anybody in the class. We were beginning to start a persuasive essay project with a partner chosen by the teacher. Mrs. Massey had put me with a girl named Patricia. I noticed Patricia wore a lot of T-shirts of the bands I admired. Being shy, of course I never conversed with her or told her those were some of my favorite bands ever. Mrs. Massey approached us a few minutes into the project and explained, "I've noticed walking around you guys read about the same uncommon subjects." This struck me considering I read a ton about mental illness and self improvement. We immediately had an infinite amount of concerns and passions to share about with each other. I'd never before experienced such an interconnection with someone. I was so wholehearted to show her many things I adored and she was so eager to listen. We began to work on everything together and strengthen each other. I could feel my spirits being lifted up by having a friend around. My mornings began to feel a little bit less like a struggle, the rising sun's rays' started to feel like they were reaching through my window, lifting me out of my bed to begin my day.

Our friendship soon molded into a home. A residence constructed by thick, cozy walls of friendliness, support, and motivation. A home I could be welcomed into whenever I needed. An exquisite, trustful space that I could feel the positive energy dancing in the atmosphere radiating and catching hold of any disappointment I had and washing it away. Our friendship molded into graceful, wholehearted home. We spent the winter, chilly evenings together, sharing ideas and stories in warm, snug coffee shops. We enlighted each other so much. She always was so enthusiastic about what I had to say, even asking me to show her my playlists, writings, and drawings; something I was not used to. Her ability to just patiently sit and listen to a poor soul like me pour out my mind touched me. Her interest in quick sketches or a poem I had done just out of boredom made me feel so remarkable and worthy. I felt so delighted to have someone point out pleasant traits I never would have noticed about myself. That made me feel indestructible, I never felt so positively about myself.
As seasons kept fleeting by I changed with them. My hands became welcoming to my paints, pens, and guitar strings. My mind was overwhelmed with pridefulness and creativity, and my soul was at peace with itself. Her unconditional admiration and friendship provided my confidence a brace, making it stronger and more durable, even during the most atrocious devastations. I am now willing to explore what my mind has to express. The confidence she gave me made a tremendous impact on me, the holes where my self love had dissolved began to form again. She taught me how to appreciate and love myself.

Going through the childhood years in desolation has the ability to impact a person in profoundly, devastating ways. Meeting someone to encourage you to fulfill your aspirations is the greatest gift. I no longer feel as if I'm inept in this world, searching desperately to find my place and talents; instead I'm so excited to unleash any special abilities I withhold and do greatness for this world. I've learned to always support those around you, encouraging someone to aim for their absolute dream, even if it may seem impossible, is so inevitably important.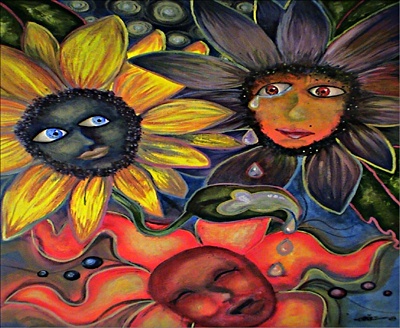 © Christine W., Davis, CA