You are by Nature
June 13, 2017
I suppose that it all began when I pulled my pajamas on. I remember it quite clearly- too small pajama bottoms imprinted with snowmen, and a too big green hand-me-down top from my mother. I gazed into the dresser mirror and scrutinized my outfit. I silently thanked God that I didn't have to wear it in public, and began to tunelessly hum. With the backdrop noise of my four younger siblings, I walked down the hallway toward the kitchen. I heard a sudden crash, and stopped dead in my tracks. The usual household clatter seemed to be holding its breath for a few precious seconds.
Then the screaming began. Blood curttling screams erupted from the kitchen, and my legs began to run toward the source. My mother was already on site and on her hands and knees. . My sister Ruth lay on the ground clutching her head, writhing in pain, surrounded by a pool of blood. Instructions were being hurled at all of us; my sisters Hannah and Rebecca abandoning their half-made chocolate milks and bolting towards our bedroom; Ruth being ineffectively comforted; me racing to dampen a washcloth; and my three-year-old brother, well, obliviously playing with trucks. My mind switched to autopilot. I grabbed a washcloth and thrust it under the tap water, before throwing it to my mother. I refused to look at Ruth. I didn't want to know what happened. I leaned on the counter for support.
"Call your father!" I heard someone command me.
"I don't know his phone number!" I said, panic rising.
My mother relayed his phone number to me, and I frantically dialed it. I prayed that he would pick up the phone.
"Hello?" I heard his calm voice on the receiver.
"Ruthie hurt her head really bad, you need to come home right now!"
The phone emitted a beep.
"Is he coming?"
"I don't know; he hung up."
"Get another washcloth!"
I choked back tears as adrenaline pushed me forward. Ruth began panicking.
"I'm gonna die! I'm gonna die!"
"No, you're not, you're going to be okay," my mother reassured her.
I handed my mother the washcloth, then retreated to the bedroom for a new challenge. Hannah and Rebecca were huddled together, tears streaming down their faces, accompanied by hysterical sobbing. They were panicking about the blood, and, in six-year-old Rebecca's case, abandoned homework. Pounding down the hallway once more, I retrieved the homework from the kitchen table, and thrust it into my sister's hands.
Anything after that is a blur. I remember my dad standing in the doorway, white as a ghost. I remember hurried discussion: quick remarks about the E. R., a concussion, and falling into the table. I remember Ruth being walked out the door. I remember mopping blood off of the kitchen floor, and coaxing my siblings out of their room.
30 minutes later, my mind finally eased off of autopilot as the realization of what happened sunk in. My human emotions returned, and a tear dropped out of my eye. With a final overwhelming realization, I collapsed into a chair.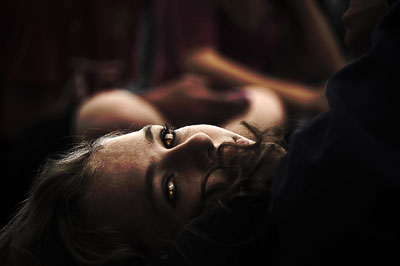 © Calvin C., Salt Lake City, UT