Dutch Lane Rd.
June 12, 2017
     Have you ever been in that one situation, the one where someone says something as a joke, not meant to be taken seriously, but then the others in the group actually do? It all began on a abnormally warm summer night, and I mean night like midnight kind of night. My brother Grant and my cousin Chase, when together we like to get into mischief. They began down the slow downhill slope of the road of my grandparents neighborhood. They live in Ohio, and as some of you may know, Ohio has lots of farms and fields, so their neighborhood bisected a cornfield, with a patch of woods at the back, and it slopes down to the road. We had just took some time from our summer to go and visit our grandparents, for no real reason other than to see our family.
     Naturally, Grant and Chase took the two bikes and were riding around, slowly making their way down the street. I, of course, the one who thought it was a joke, was left at the house thinking they'll turn back any minute now, not to mention the two missing bikes, I was stuck with the penny board. After they didn't turn around, and the light of their flashlights slowly faded to flickering dots. I ran after them taking long strides, not wanting to be left behind, thank god for my long legs. They couldn't be serious could they?! Once they'd heard my frantic yelling of "STOP!" and "WAIT FOR ME!" Grant and Chase slowed so that I could catch up, then we set off, heading down Dutch Lane Rd. We were ninety percent sure we knew we were heading in the right direction, then when we came to a crossroad we'd have to reevaluate.
     "Hide!" Chase fiercely whispered.
     Lights shone on the horizon, a glow that grew, a car. We jumped of the road into a nearby ditch, eager to not be seen, partly because they might stop and ask what we are doing, but mostly because they might snatch us up and drive away, and nobody would ever know where we went. Luckily there were only a few cars, so we weren't having to dive all over the state of Ohio. One time when we had stepped off the road for a moment we pulled up Google Maps to find where exactly in the middle-of-nowhere we were. It turns out we had only come one mile, and had four more to go, it may have been possible if we hadn't have had someone on foot. Our plans to go to my aunt's house and going for a midnight swim in their pond, and maybe even a snack if they were still awake, were off. "You have to be kidding me Grant, you said it wasn't that far," I said.
     "I didn't think it was that far," Grant retorted in his defense.
     "Well, it would've been be helpful to know that it was 4 times longer than you said it would be!" I said exasperatedly.
     "Again, I didn't know, I'd just though it wasn't that far, my mistake," he said again in his defense.
     Reluctantly, not wanting to give up, we started our journey home, back to the house. This time I made sure I got a bike, making sure my brother, who'd made me run a mile in my Vans, experience what he had put me through. He tends to under exaggerate things. The way back seemed shorter, as it always does when you know when you know where you're going. Eventually we returned, tired and defeated, and a bit more sweaty than when we had began, but it was all in good spirit. Our little nighttime adventure had come to an end, but it stood for more, live life to the fullest, so what you don't get exactly what you want, enjoy what you get, because it's better than nothing.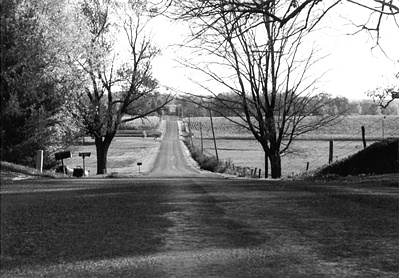 © Amy J., Sebring, OH