Internet Feud
June 9, 2017
Anger builds up, clogging my brain with adrenaline. My fingers fly over the keyboard, leaving typos, and exclamation marks behind them. The bright little light of the caps lock button stares back at my crazed eyes, until all that is reflected in them is that small green dot, and irritation. How can they not see what I see? What world are they living in? I press send frantically. Before I even have time to proofread what I have already mailed, another message appears on my screen.

(goawayaesteticdora): Man_andW0m3n_r3lati0nship_0lny has requested to send you a message.
DECLINE ALLOW

Without a second thought, I smash my thumb into "allow" so hard that my fingernail, already wittle short from me chewing on it (a bad habit I have when I'm stressed), breaks.

"ur a f**. ur going to hell. go die u d*** trash".

I wish I could say that the message alarmed me. I wish I could hold my head up high, and not mind the hate. But that's not who I am. Maybe deep down (in my ice cold, lesbian heart) I feel like there's no way for me to ever love myself. But hey, if I feel terrible, so can the anonymous sender of the message. I begin the process of typing a bitter response, letting the hate energize me. The giddy, energetic, frenzy this puts me into would put any cup of coffee to shame. I'm about to send the hastily written reply, when I stop for a moment, to look at the mystery message sender's avatar. It's a family, sitting around a grassy lawn, eating (slightly burnt) hot dogs, with a laugh frozen on there faces. This isn't some nonexistent force, it's a person.

I go to their account, and start snooping through their posts, looking for something to validate my venomous feelings towards them. Instead of fueling my hatred, I'm left feeling empty. I can't hold anything against this person, they aren't any different than me. I go back to my angry text. My finger is pressed up to the delete button, as if my life depended on making all those letters disappear into thin air.

Power Off

Restart

Emergency Mode

After I click the "power off" button I and instantly feel liberated. When my screen is black, the only thing visible is my reflection. Suddenly I start to cry, until my entire body seems to fry up and shrivel, like a flower somebody picked, and promptly forgot about. I was never really mad at anyone online. I was mad at myself.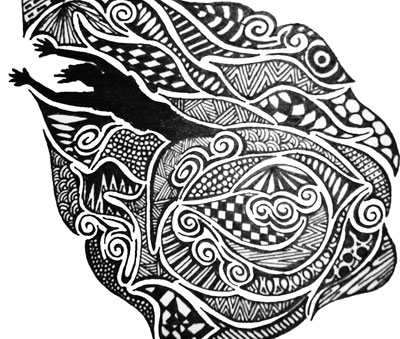 © Caroline B., Haworth, NJ