The Act of Life
June 17, 2017
I've constantly been living in this little bubble where I've been trying to meet with what I think other people's expectations of me is. Honestly, it's never enough. No matter what character I play, no matter what I wear, what jokes I tell, no matter how much I laugh at someone's joke, it's never enough.
And now, as I've exhausted myself with one act after the other, hoping to please the people around me who I have accepted as my jailers, my abusers, when they have no clue, they don't know how much they make me suffer, I'm the victim of my own cruel attempt at life.
But, I've finally found an act, an act that may satisfy their unquenchable lust. And even though it's terrifying, it's something completely tiring, and even though I keep telling a part of me that it completely disagrees with all my ethics, another part of me flat out ignores that part and argues by saying that I've lost all my ethics when I was six.
The week is finally over, and I have the weekend to stay in, to write, to sing, to dance, to scream into a pillow, to meditate and become one with myself again, at least for these two days. But as I was clearing out my cupboard, a book fell down. A book with a little binder and a dark blue covering with incomprehensible words written on them, as I looked more closely, I could read - "The dreams that once seemed impossible, after a little hard work will seem improbable, and then possible."
Probably not the best quote that's ever been written, but to me it's everything. Memories came flooding back in, clearing the mist that dominated my conscience. My soul filled back up and I cried. Tears flooded the cover, and even more when I opened it to see all my writings, all my confessions of anger, sins, sadness and fights. Even though most of the things I've written might have seemed silly, it was so pure. So devoid of any kind of bias, any kind of lie, it was honest and raw.
It gets better, my heart stopped when a little piece of paper fell out, it was a little goals list I wrote when I was seven. It contained little goals like "be a writer, adopt two girls, teach underpriveleged children, sing and play the piano at the bar, fight for what you believe in." And for a moment, I felt like instead of this much more older teenage girl sitting on the bed, there was a little seven year old sitting and writing in her best possible handwriting on a little piece of sheet.
The pain, was also soothing, it calmed me, it got rid of all my pretentions. I had never felt so englightened in all my life, I had never felt so secure and complete. For a split second, myself and my seven year old self co-incided, and I could feel her, the little brown haired girl with bright curious brown eyes and that little smile who wanted to write and write and write.
And as I write this, I am more myself. I am my own person now. And I thank god, for bringing this little book back into my life. I'm so grateful, and I will cherish this feeling of being myself forever. I don't care what the people think, this new act, I don't have to work for it, it comes naturally.
So, my advice. Even if you don't know who you are, I would not advise you to be someone else. The act, even if you are the best actor in the world, will be draining, exhausting and souless. And you cannot imagine a worse act.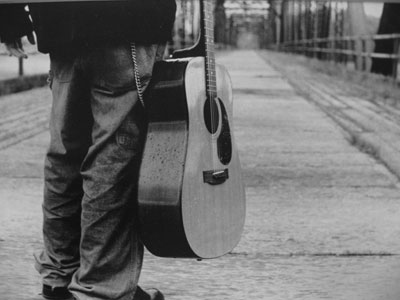 © Bailey M., Eagan, MN