Everlasting Friendship
June 11, 2017
Throughout my life I had struggled with being in Honors Languages Arts. In 6th grade I was in the class but wasn't very successful only able to uphold a solid C so I was soon to be kicked out. At the end of 7th grade I tried to get back into the class, trying my hardest I turned in all of the steps to do so in to the best of my abilities. Although I guess my work wasn't as great as I thought because I didn't make it. This made me incredibly frustrated and upset so I was called up to talk to the teacher in charge one on one.

Originally I thought that I was going to be able to talk and express my reasoning for why I should be in the class but once she sat me down I realized that it was not. Sitting down in the chair in front of the teacher I heard her grab papers out of a folder, almost like she had prepared for this moment getting evidence against me beforehand. The first sentence of hers was asking why I believed I should be in the class and that was the one and only time for the next thirty minutes where I was able to speak because the teacher then took over. Talking about my failures and examples of me not being "ready" or "good enough" to be in ALA which may have been intended not to be harsh but it was truly heartbreaking as my incredibly unconfident and self conscious self felt like I wasn't ready nor good enough and I realized how stupid I was thinking she would give me another chance. Adding onto my worthless and horrible feeling inside me, it was my birthday so as the tears streamed down my face, feeling as though I was being interrogated and threatened, the mascara and beautiful makeup I had done in honor of my 13th birthday had washed away. Thirty minutes later she was done and I felt small, worthless and truly unintelligent but noticing as the hour had ended. "Alyse, as you can see, you're not ready for this. Although this is your decision" the teacher said "but it will be very embarrassing when you get kicked back out."

"I… I…" I mumbled struggling to talk after that beatdown
"I highly suggest staying where you are at the moment."
I open my mouth and finally force something out "No, I'm going to be in ALA next year."

Instant shock spread through her face "Ok, but remember we will be having a close eye on you so when your grade drops lower than a B you can go back to normal LA."

Anger then built inside me, I clenched my fists and looked out the door ready to run out of the room. I stand up and look outside at a line of students, friends of mine or even those whom I'm only acquainted with stood there about to see my beating red face after I had finished crying.

Rushing out of the room I used my books to hide my face, friends trying to stop me but I just bolted straight to the bathroom, not worrying about my attendance or what I will miss in my next class, I sat in a stall and let it all out. Using a piece of toilet paper trying to get the redness down I hear a knock on my stall and hear a faint voice "Alyse?" I slowly open the stall door and see my friends face, she had known what happened so she quickly wrapped her arms around me. I squeezed her as tight as I could as the anger from the past 30 minutes goes through me, causing the last bit of moisture to leave my eyes in a tear. I pressed my face into her shoulder as she continued to tell me everything will be alright but my mind kept repeating the same sentence over and over again and I finally said it out loud "I'm an idiot" my voice cracks as it comes out but she just holds me tighter and lists all of the things that make me intelligent. She looked me in the eyes with compassion and gave me a smile. Looking in her eyes I became fortunate to have such an incredible friend as her. Once I had wiped all of my tears away and I was good enough to go to class she gave me another and promised one last time that everything will be all right, this time I believed her and we strolled our separate ways.

That dreaded walk through the hall with my beat red face wasn't full of embarrassment, but more of me thinking about how I wish to become like my friend. I would like to be known like her to be caring and someone who will always be there when others are upset and just need someone to comfort them. Everyone needs that person in their life to hug you and care for your in a rough time, someone you can trust where every word they say is intended not to be harsh or cruel but to lift you up in the worst of times making horrible things much better. Due to my close friend being there for me I gained confidence, helping me grow to become who I am today. I joined the class without a doubt in my mind and that I would succeed. Which I did. Proving the teacher wrong and nearly getting 100% in the class, I could say I was able to show my true abilities due to the strength shared by a close friend who will always and has always been there to cheer me on.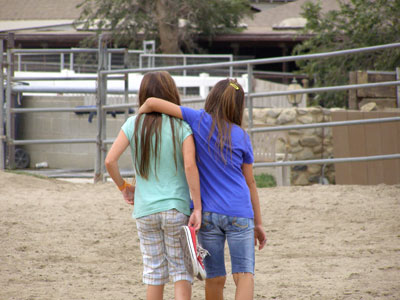 © Austin K., Studio City, CA