The Big Hit
June 9, 2017
BANG! all I hear coming from the back of the car, me and my dad riding down the West Side Highway. I see my terrifying face expression from the side view mirror. I realize that we had been struck by something, but nervously wondering what it was. At that very moment I felt all my hairs on my body stand up. My body is shifting to the right side feeling the car spinning in circles at full speed. I hit my head right on the window which made me pass out, I wake up seeing that the window I hit my head on is shattered. Me and my dad are still in the car that is spinning but at that moment I see that this is not a dream this is real life and that im in a dangerous situation. The car hit the barricade on the side of the highway with full power making our bodies press hard against the seat belts which gave me the worst pain on my left hip.

I open my eyes slowly praying that nothing bad happened to my dad. Hoping that nothing serious happened to him. I open my eyes seeing blood on the windshield which came from my dad's busted lip. All of a sudden I feel something flowing down the side of my head which was blood. I still remember how the car used to look like before the crash it was 2014 all black Mercedes Benz. I began yelling at my dad trying to wake him up to see if he's ok but no response from him at all, not even a tiny noise. A man from the other car ahead came sprinting towards me saying to "keep calm that the ambulance is coming… calm down". My eyes weren't on anything else but my dad because I didn't want him to leave me… Not now.

Moments later I hear a man who was a firefighter telling me "The EMT are going to take you to the hospital… you're safe now". The firefighters put me in a neck brace and carry me into the ambulance. The EMT asking me about my story of the crash. My body was in shock, I didn't respond to any of the questions they were asking me all I heard was ringing in my ear thinking about what had just happened and thinking about how my mom is going to react when she comes back from the Dominican Republic.

All of a sudden I wake up in a hospital bed feeling the pain coming from the side of my head. My head was in so much pain I couldn't even think clearly for about 1 min but felt like hours. I see one of those nurses that are there to examin on real life patients. They run some test one me to see if everything is ok. Every needle they put in me was numb for some reason I just felt the needles go in me but with no pain my body was numb. I see the blur of the flashing lights while the doctors are moving me in the hospital bed down the hallway. I turn my head hearing my dad yelling.

"where's my son? SABASTIAN ARE YOU OKAY SABASTIAN!" he said

At that moment tears were flowing down my cheek thrilled to hear his voice again.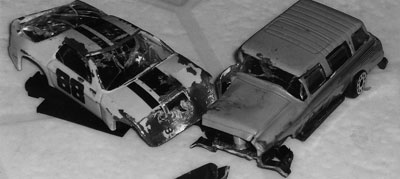 © Danny H., Chula Vista, CA