This I Believe
June 5, 2017


"True friends accept you exactly as you are. You don't have to hide or pretend that you are something that you're not"
I believe in real friends. The group of people whose mere presence causes a grin to spread from ear to ear. The people you can whisper your deepest secrets to, whether it's the newest grade you received on an assignment, to your new crush.
Each day when I shuffle into homeroom, I'm so thrilled that I have such fantastic friends to spend time with. They're there for me when I need an encouragement boost, comforting embrace, advice about life, or someone to share a heartbreak ice cream sundae with. A few months ago, I never actualized how fortunate I was to have such special friends.
In these past few months of my current 8th grade year, after what felt like one hundred years of being the "smart-goody-two-shoes" girl who didn't fit in, I was determined in making myself known by all. As a result, my mind felt as though I needed to transfigure myself in order to hear the popular girls say, "Tess, you are on fleek", in order for me to feel exceptional about myself.
At the beginning of this year, I undertook wearing "globs of colorful goo" of L.A colors eye shadow and Limmel liquid foundation on my face as well as style my hair in a do other than down in order to fit in. However, nothing new had changed: the girls continued to be their discourteous and acrimonious selves, looking down on my self-being. In addition, they continued to cut me out of their group activities or gossip conversations. For example, once I made a comment about how the boys in our gym class were ball hogs (that's what they were chatting about). They gave me an eye roll, dramatically turned their right shoulder then resumed their conversation. After four months of unauthentically being myself, I started to feel like a fake, a (friendly) wolf in sheep's clothing, a "plastic" version of me. I could see through the unnatural layers of plastic and silicone beginning to form on my skin. I felt like a new Barbie doll standing in her pink display box-watching people roam by. When I explained to my best friend Lindy my experimental dilemma, she replied with a warm smile, "Tess, you don't need to worry about receiving the approval from those girls, you are beautiful just the way you are. Don't let a few girls get you down, just ignore them, stand tall and be yourself".
At that moment, I saw how much she had been there for me. I concluded how blessed I was to have such an incredible friend. Moreover, I took her advice and embraced my true self by strutting down the hallways taking pride in myself (without seeming snooty), not caring if people judged my straight hair; almond shape eyes; anime bracelets, or my black choker necklace. I've learned to accept not receiving the approval of the hierarchy in our 8th grade. I felt superb when I was with my true friends.
To this day, when I dash into homeroom with my head held high, I immediately begin gabbing with my friends, greeting Zach with our inside joke "So, how about them sports teams", watching his head slowly pivot around to face me, a smile spread across his face, to telling Lindy her "hipster" hair do is everything. As I'm heading to class, I enjoy saying "hi" to some of my other buds too.
Throughout my life, there will be mean girls everywhere intimidating me and making me feel inferior. So even if my status on the accepted ladder never elevates, I need to look back at the friends I have and shake off the haters.
So, I may not be miss popularity, but I don't care, I have the most marvelous friends anyone could ever ask for. This I believe.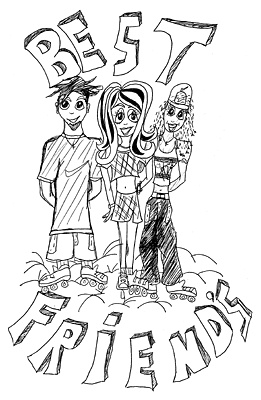 © Jessica H., Newcomerstown, OH