The Last Time
June 6, 2017
When in the midst of moving from your childhood home, many emotions start to stir. I've been counting down the days with excitement until I get to move out of my house and into my new home. While for some people this might seem like the most traumatic thing to happen to them their sophomore year in high school, I am ecstatic.
Despite the fact that I get nervous to even ask a waiter at a restaurant for extra napkins, I really love meeting new people and welcoming change. I am excited to live close to town, meet new people, have new neighbors, and in a sense, start my life over. Considering I have lived in Oakland my whole life, I think a change is over due.
However, as I was taking an evening walk with a good friend of mine the other day, I couldn't help but feel a sudden twang of bitter sweetness run through my body. I have known Sara since I was in the first grade. She lives two streets over but goes to a different high school in my district. Since we don't get to see each other often, we have monthly walks to each other's houses and to our old elementary school. I genuinely look forward to these walks to catch up with an old friend and to get in some much needed exercise. Although this time, walking back to my house, the mood had shifted drastically and I couldn't help but think that might be our last walk together. I hadn't really taken the time to realize the things, places, and small moments that make up so much of my life; I would shortly be leaving them behind. Starting June 12th, I would no longer witness my neighbor's dog occasionally stray from his yard and have to coax him back home. I would have to direct my friend's parents onto a different route back to my house. I would no longer write the same address down, or even have the same zip code. Moving one town away suddenly seemed like I was moving a world away. In a sense, I am.

On that long walk home I couldn't help but wonder, is it better to know when something is the last time, or to have it be unknown? All I knew is that I wasn't too sure I wanted that walk home to end, considering "home" would be a different place in a few weeks. I am moving from one microcosm to the next, following a journey with an unset destination on an unset route. When I finally reached my curb and looked at the "under contract" sign, I suddenly realized how okay I was. I had been okay from the gecko, but that one moment of nostalgia had almost swayed me into an opposing zone. My mind surged to one of the final episodes of one of my favorite shows, 90210, where Adrianna sings about her on again-off again relationship. Even though both situations are extremely different, I felt a connection to the lyrics "Is the last time the last time, or something new?", and I was determined to let all of my soon to be "last times" take me to something new.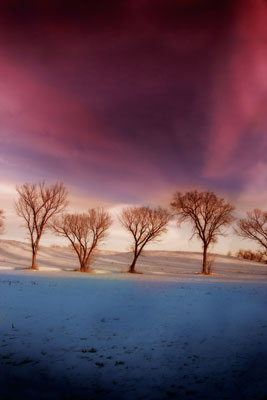 © Elizabeth H., San Bernardino, CA