The Vacation
June 5, 2017
One time, My family and I wanted to go camping, but not just any kind of camping, winter camping. It was the middle of winter and we had never been before. It was perfect, there were so many different things we could do that were a lot of fun, like sledding, skiing, things like that. But, There were also a lot of winter activities that we had never done before, like snowmobiling.

We were very excited, so we packed our bags and headed up north. The drive took about 3 hours give or take, and when we got there we immediately realized; we forgot the sleds. I was so annoyed because sledding was one of the things that I wanted to do the most out of everything. This put us in a bad mood, but we made the most of it. We went out to eat and then came back to our cabin. After a night of hanging out inside the cabin, we went to bed and got ready for a day of fun activities.

The next day, we did some fun things like we rented snowmobiles and drove them around all day which was so much fun. It was one of the most fun things i've ever done. I am so thankful we got to do at least that because what happened next just sucks.

After a long day of riding around on snowmobiles in the cold weather, we decide to chill inside and turn on the t.v. to see what's on. So we all sit down on the couch, a blanket wrapped around us, snacks in hand, and turn on the tv. When the tv comes on the thing that is playing is the movie "Titanic", and we all like the movie, so we decide to watch it for a bit. After a while of watching "Titanic", we all agree that we want to watch something else so we change the channel. But the channel didn't change, Except it did. We are sitting there changing the channel fast, and we realize "Titanic" is the only thing on tv. I turned to my mom and said,

"Well that's unfortunate."

She nodded her head in agreement. After this, we are all disappointed because we weren't really ready to go to bed yet. But we didn't know what else to do so we decided to go to sleep, we did have a long day ahead of us. When Everyone is in their beds trying to sleep, we all hear this very loud scratching noise coming from the walls. My dad went to check it out, and he found that there was a racoon in our cabin, living inside the walls.This is very bad news, because it was very loud and annoying, but We all went back to bed because we realized that there was nothing we could do about it. Of course, it kept us up all night and we got absolutely no sleep. The next morning rolls around, and we are all sitting at the table for breakfast when my dad says, "I don't feel very well."

My mom took his temperature and he had a high fever. We agreed on staying a little longer just to see if it would blow over, but it didn't. Everyone was so tired, and my dad was sick so we decided that we should just pack up and leave. After all, this vacation hadn't really turned out the way we had planned. So this concluded our vacation, and we went home. I will always remember this vacation not because it was fun or good, but because it was one of the worst camping trips I've ever been on.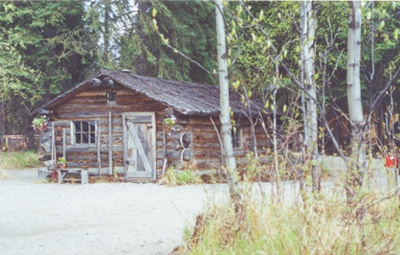 © Brian F., Melbourne, FL