Who Are You?
May 31, 2017
It was a fateful day. I willed myself to change my life's view. I often found myself wallowing in the pool of self-pity. Its inviting waters lured me to go near. I walked closer to the edge. I observed. I felt its cool sensations. I waded knee-deep. I swam into the cold, refreshing waters.

I looked at myself degradingly. I thought of myself as inferior. Nothing. Less than anyone anywhere. I like to write, but I told myself I couldn't. So, I never did.

One day, our class adviser asked the class who would write an essay about something to be printed in the school paper. The whole class snickered. They slowly turned around, one by one. They pointed me out. Why me? I questioned them silently. I was too nervous to speak. I felt butterflies flying inside my stomach. But I sat still. Our adviser smiled at me with a kind and assuring smile. I thought I would go to one of my smart classmates. I would ask her to do it. I approached my classmate. I asked her if she can do it instead of me. With a reassuring smile, she replied, "I know you have the talent. I believe in you. Just give it a try." She believed in me. I went away determined. I wrote.

I finished it. I gave it to our adviser. She read it. She smiled. I sat in front of her. Beads of sweat began to from at my forehead. The deafening silence enveloped the room. Finally, her voice broke the silence. "I love it! Well done." She exclaimed, with pleasure gleaming in her eyes. I couldn't believe what I heard!

I went out. The words she uttered finally penetrated my hard skull. I pondered on what she said. I searched myself, deep down to the very sole of my soul. I have it. I will use it.

I changed my life's view. I began to believe in my capacity.

Was it luck? Was it fate? Was it destiny? Or had God guided and led me to change? Yes, God wanted me to use my talents for Him and not to waste it.

I'm not a zilch. I finally realized. If I think and decide that I am nothing, worthless, then I am. But I decided that I was not a zilch. So, I was not. I made my choice, my own decision. I made it clear in the contract I signed with myself.
I surfaced from the pool. I swam back to the bank, away from its deceiving waters. I dried myself. I picked up my things and went away. Very far from the pool. Away from the beguiling pool.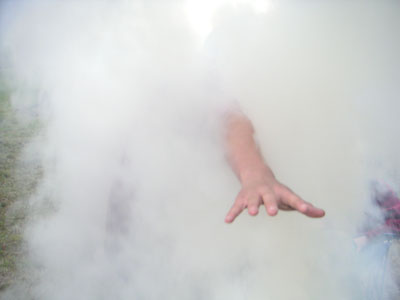 © Garrett M., Port Angeles, WA