My Service Project
May 30, 2017
For my twenty five service hours for civics I volunteered to help with our city Medical center foundation. The president of the foundation taught me and showed me a lot about the hospital, how they raise their money and how they are able to be such a thriving medical center today.

Before I started helping I wasn't excited because I thought I was going to be doing a lot of busy work that I was just doing to get out of writing a very difficult paper. Also I had a thought that I was going to help clean the hospital or something like that. But it turns out the foundation has its own building next to the hospital so I didn't actually have to do anything inside the hospital. I was also worried that it would be more like an internship and I would have to go to meetings and meet with people about donations. There was a slight breath of relief when I found out that almost all my pre judgments were wrong.

During my service hours I helped a lot with sending letters out, helping with organizing, setting up and working events and more. First I got to learn a little about the foundation, how it works with events, where funds come from, how to solicit, and how to thank donors. Also I learned where the donations are distributed and how that is decided. Second I had to help with the holiday event for Christmas and sending the invitations for the event to all the donors, it was a lot of stuffing and sealing hundreds of envelopes. I did this again for the survivor day in April, and currently they are working on the annual golf outing. Which is their number one fundraiser for the foundation inviting all their donors, even if they don't golf. Third I had to help with the January donor cards. This helped me a lot with understanding more how much the hospital is community based. The donor cards really was an eye opening experience to see, it showed me how much our community comes together to help out a very major health care provider for our area. One other main thing I helped with is all the thank you cards they send out after events to thank the donors for what they donated to the foundation. Also I spent eight out of the twenty-five service hours babysitting the foundation president's two little kids, of course without any pay.

I think the effectiveness of my community service was great because I helped our community medical center raise money. Our city Medical center is a very popular and larger hospital for as small of a town I live in so it can be hard to get donors. But I learned how the men and women do it on the foundation board. Also I was able to get more experience with watching kids that I could use to help work at the local YMCA's child care services if they needed any extra help.

I've learned a lot from doing this community service, of course it helped me get a passing grade and at first that was the only reason why I was doing it. But I am happy with myself as a person that I was able to get out and help our community in some way. Also I am going to continue helping the foundation out throughout this coming summer with the events I was lucky to be apart of the planning for them. By doing this community service I have learned more about communicating with people more professionally, how to raise money properly, how to plan major events, and I even got to help make cancer patients/survivors day better when working the survivor day event. I enjoyed doing this community service project and I continue to plan on doing more to help.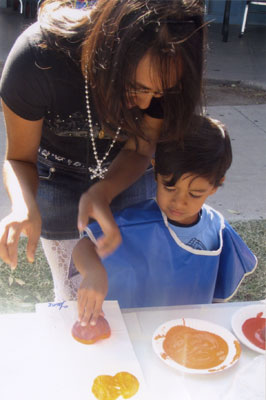 © Melinda M., Phoenix, AZ