The Cherry Blossom Tree Across the Street
May 28, 2017
I watch it from my window every single day. It takes up their whole yard, the Empire State Building in a sea of Manhattan towers. It begins to bloom, the best meteorologist source of warm weather soon to come. Deeply rooted in the soil, it has been in the neighborhood my whole life. With many branches in each direction, it tries to reach out for the unknown, for the wonders the world has to offer. The mysteries just outside this tiny town we both live in.

I watch it from my window every single day. It's beautiful petals beginning to come alive. I wished the new neighbors wouldn't get rid of it. Thankfully--they didn't. Perhaps I see myself in it. Its long trunk standing strong ready for whatever comes its way. The astonishing colors reaching for the sky. Higher than the sky, the stars,---no, higher that because why say shoot for the stars if someone has already reached the moon.

I watch it from my window every single day. This season's cherry blossoms begin to open up for the world to admire. The most beautiful thing amongst standardized maples and oaks. Like a mind open to new ideas, a mind full of beauty and knowledge. A mind amongst standardized small-minded, suffocating individuals. A mind begging to be let out, a mind ready to bloom. The cherry blossom tree across the street signals the beginning of a new day to me.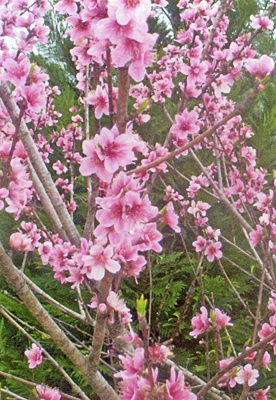 © Matilda S., Perkinston, MS