From the Horizon
May 20, 2017
Before I digress into sticky, sweet nostalgia, let me make one thing clear: I absolutely hated the first half of high school.

Here are the facts. When I nudged open the front doors on the debut of my freshman year, I had a grand total of two friends out of a swollen student body of 2,800. My swelling confidence—fresh out of junior high—drained about four days into the first week, when I realized that most middle school cliques were unclickable, and I may very well float through high school like a shadow, a whisper, an afterthought. I couldn't relate when kids from HMS talked about that guy who crawled through the school vents and spied on the girls' bathroom, or reminisce with CHMS grads about the best teachers from their ACE program, or even laugh with friends about the name "Westview scum." The start of my freshman year felt like one big inside joke I'd already missed out on.

So I took the worst course of action possible: I went on lockdown. I spent my Friday nights binging on Pretty Little Liars with bloodshot eyes instead of painting my cheeks with ruby red stripes at LT football games, while I stuffed my long weekends with swinging and sweating at the driving range instead of hitting up parties or perusing the mall or chatting it up at the local Starbucks. Loneliness, frustration, and bitterness mashed into a tight ball of insecurity at the pit of my stomach, bouncing around with the regret that I should have chosen Lab or Latin, Benet or Fenwick, or any other school in the Chicagoland area. By sophomore year, I officially decided that high school would be the worst four years of my life.

Between the stress of golf tournaments, finding friends in a flood of unfamiliar faces, and high-strung tiger parents, the thought of moving to college on either side of the country was the beacon of hope that got me through it all. A new school in a new town with new people—a concept specific enough to grasp tightly but general enough to anticipate with innocence. Focusing on the wispy unknown on the horizon helped me breeze through schooldays and glaze over weekends as I stuck to my routine: school, golf, homework. Repeat. I made friends in my classes and left my social life to that. I ignored their Instagram posts and Snapchat stories of the Chicago skyline or trendy coffee shops or hikes through the woods, and told myself that in a couple of years, none of it would matter. College would be fun. College would be fitting. College would be better. All I had to do was push through the next few years, however numb I felt, and I'd make it.

There's a quote from one of my favorite books, a book I picked up because it was small enough to fit in my purse and because I had already seen the movie featuring Logan Lerman and Emma Watson. It's called The Perks of Being a Wallflower by Stephen Chbosky. When I first flipped through the book, I was fourteen, on the verge of high school, and ready for Chbosky's coming-of-age masterpiece to equip me for everything the next few years might throw my way. While it did prepare me well enough to steer clear of drugs, school fights, and bad grades, the main takeaway—to step away from the safety of the sidelines and unabashedly participate in life—was lost on me until a few months into my junior year.

Ironically enough, junior year was the year I was supposed to pause living completely. I fully expected to drown in a full load of APs, grind until I scored a 36 on the ACT, and go another year without the friends and fun that seemed to fill everyone else's life. After all, my junior year record would be the most essential part of my college applications, my key to reaching the horizon and leaving all of the nothings of high school behind. This year, more than ever, it would be necessary for me to tune out of living and just get by.

But junior year, of all years, was overwhelmingly, unexpectedly, plainly, and simply good. I cannot pinpoint exactly what turned my high school experience from unbearable to fully livable in only a few months; it could have been anything from the exhilarating freedom of my shiny, new driver's license to the fluttering butterflies of my first real kiss to the familiarity of sitting down for lunches in the middle of a town I had once hated with funny friends and a side of good conversation. Whatever the reason, junior year was the year I finally started participating—not in schoolwork or in clubs, but in life.

And that is what I missed in The Perks of Being a Wallflower. In many senses, Charlie, the protagonist, and I shared a similar experience: moving through the motions until the day we seized life. For me, it meant leaving the wispy anticipation of college on the horizon, accepting less-than-perfect grades and test scores, and coming to terms with the fact that the name of my middle school was irrelevant in the big scheme of high school, all in order to go out and live. Charlie had it right when he said, "Even if we don't have the power to choose where we come from, we can still choose where we go from there."

And now we're here, sitting at the cusp of the next stage of our lives at our high school graduation. When you take a closer look at the paper you're about to receive, a few things will stick out to you: the school name printed in big, bold letters at the front and center, your name printed underneath in a significantly smaller, significantly more underwhelming font, a few more words explaining what the fuss is all about, and a couple of fancy signatures to affirm that, yes, you really did just graduate high school. And then you'll realize that a diploma is just a glorified piece of paper; it doesn't show how we have each contributed and participated and lived out these years through our own means. Each of us has stood up to high school in ways we never anticipated, and a piece of paper could never do this growth justice.

Now all we can do is reflect, and when I reflect, I see contrast. Freshman and sophomore years are tinged with the greyness of loneliness, but when I relive the memories as a junior and senior, I see moments bright with color. Ice skating in black on Halloween. Eating bubblegum-pink frozen yogurt before watching a laughably bad holiday horror movie on a first date. Gazing into the greens and blues of the Pacific Ocean from the sands of Japan. Sporting a red pullover to football games, a red jacket to my last golf tournament, a red dress to prom. Swimming and laughing and camping and covering a rainbow of experiences only made possible once I started participating.

No matter if you loved every moment of the last four years or if you hated every second of it, I am certain that there will be times in each of our lives that we will want to breeze through to reach the next distant horizon. But if I can look back on high school in a rosy light, then I know that no matter where we find ourselves in these next few years, we can always find ways to overcome our situations. It won't matter where we've come from or what we've done—only our willingness to make memories, seek out experiences, and participate in the colors of life.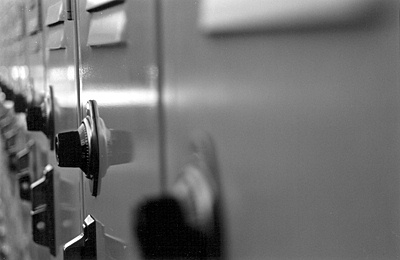 © Cassandra Z., Sunnyvale, CA