The Cabin
May 16, 2017
In the summer time, there is nothing better than going up to the cabin for the weekend or when I'm lucky, the whole week. It's such a good time up there. Our cabin is located in a very small place called Dairyland, Wisconsin. I wouldn't even consider it a town because it's so small.
During the summer and fall, we go up to the cabin almost every single weekend. So basically any weekend from May-November, I'll be up at the cabin. We have 8 acres of land that our cabin sits on, but it is surrounded by my mom's sister and brothers land who also have 8 acres each. All together we own a 40-acre piece and my grandma owns 10 acres right across the road from us. Each family has their own cabin on the 40 acres so we all get to spend a lot of time together in the summer because everyone goes up there every weekend. There are trails running through-out all of it and in the middle of the 40 acres is a big field that is surrounded by woods and a swamp.

There's a lot of things to do up there. One main thing we do is bear hunt, that's what most of our weekend consists of. We always go up on Friday night. It doesn't matter if it's right after school or late after a football game, we are on our way up on Friday night. Early Saturday morning, around 4:30, I always wake up and start getting ready to go hunting. I'm normally up before the rest of my family is so it is my job to get everyone up and moving. We'll get done hunting anytime between 10 and noon on an average day but there are always those days where we can't get the dogs out of the woods or in some cases the bear is just running that long, and we don't get done until late in the afternoon. When we aren't hunting, we are back at the cabin playing bean bags or volleyball out in the field or at one of our cabins. The kids all ride the four wheelers around in the field or on the roads. On the really nice weekends, a lot of the time we'll go tubing down the St. Croix River or we'll all go sit at one of the lakes once we get done hunting. Some days when we get done hunting we'll end up just sitting on the side of a dirt road for hours with all of our friends and family that we hunt with. That might seem boring because it sounds like you're just standing on the side of a road but it can actually be pretty fun. The adults will sit and talk and the kids will go mess around in the woods. Sometimes instead of going to sit at the lake or on the road, we'll take off on the four wheelers and go for a ride. At the end of the day we all head back to the cabins and go baiting. After we go bait we'll normally go to someone's cabin and have a fire or sometimes go to the bar.

On Memorial Weekend, Labor Day, and 4th of July, we invite a bunch of people up there and they all bring they're campers and camp out in the field for the weekend. It's basically a free for all on those weekends. We normally don't hunt on those weekends because those are our weekends to just relax and not worry about having to get up early to go hunt. Instead, we actually sleep in and have a big breakfast with everyone. Everybody usually gathers around in the field where we have speakers and the volleyball court and bean bags and we chill out there for most of the weekend. Those weekends are probably my favorite times at the cabin because all we do sit around and have a good time with all of our family and friends.

Going up to the cabin and doing what I do every weekend definitely isn't for everyone, not many people are crazy enough to spend their weekends waking up at 4:30 to go chase bears through the woods. But to me, there is nothing like heading up to the cabin for the weekend. I get to do all the things that I love to do with the people that mean the most to me.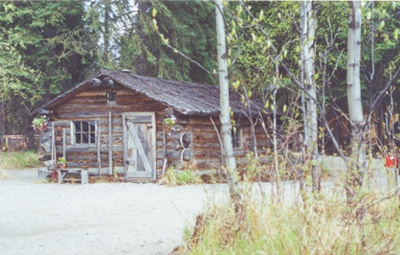 © Brian F., Melbourne, FL