Life in the Net
May 12, 2017
"Just try it, and if you don't like it, you won't have to play next year," my mom told me as we drove to the first day of volleyball camp. I was in sixth grade and quite immature, but I still wanted to try it.

When a person finds something we like we pursue it and keep engaging in that activity. Mine is volleyball; how I figured that out was a long and confusing journey.

These little three-day Summer Volleyball Camps are where it all started. To be true, my whole reason for even trying the camp was that I heard we would get a t-shirt!

I was a little nervous at first and asked my mom, "Do I have to go?"

"You can't back out now. We already signed you up and turned in the paper," my mom uttered as she stood at the door jingling the keys in her hand.

We got to the high school, walked in, and the hour and a half started. This camp was to teach us the fundamentals of volleyball. We started with the terminology: bump, spike, dive, kill, block, and many more.

My form wasn't pretty but the camp helpers tried teaching us the basics of bumping a volleyball. Little did I know learning these fundamentals would trigger a discovery from within me of my newfound passion.

"How was your first day?" my dad inquired, as he picked me up from the front of the high school.

"Um, well it was kind of boring but I learned a lot on how to bump and spike and stuff," I retorted.

"Oh, so are you going to spike the ball and kill the ball everytime from now on?" my dad said, trying to be funny. It was one of those "dad jokes" So I tried not to encourage him.

My seventh grade year was coming up fast and I was more than ready to test my new skills on the volleyball court that season. I was ecstatic to start a new sport, but I wasn't sure if I would do it again after this season so I didn't go all out on purchasing volleyball gear. I bought just a plain pair of Nikes and a generic pair of knee pads that barely made it through the season because of how much I would end up on the ground.

"Welcome to the first day of practice ladies!" Coach Krieger announced to the whole team. My first impression of Coach Krieger was that she was going to be a fun and an exciting coach. She was all of that, but she was also a tough coach.

We had conditioning for the first week or so of practice and it was exhausting! The team didn't look forward to it but it made us better. However, that's not what was going through my head when we were running, the what it seemed like, 100 separators.

The first two horrible weeks passed by our Team Day eventually rolled around. Team Day is the day we find out if we made "A" team or "B" team. Of course everyone wants to make "A" team, but that's just not how it all works out in the end.

"Ok ladies, I've been trying to hold this off, but it's time to announce teams!" Coach Krieger bellowed.Eager to hear the news, we all rushed over to her side and sat down to listen. I was so nervous and excited at the same time. But what was to come next, I wasn't ready to hear.

" Ok, on 'A' team is…" she announced all of "A" team players and I didn't hear my name so I was crushed and thought to myself that I didn't work hard enough and didn't push myself enough to achieve my goal. I was so angry with myself and didn't want to be there anymore. She finished telling us the teams and the practice was over. Finally, we all leaped up to leave.

As I walked to my bag, I heard Coach Krieger call my name. "Megan come over here for a second," she smiled, just like she often did, but I was still anxious.

"Yes," I answered. I was confused and had no clue what she was calling me over for.

"I would have really liked to put on 'A' team but there wasn't enough room to add one more player, but we have an 'A' team only tournament that I would like you to attend with us when we go." When Coach uttered these words, a huge grin grew across my face. I realized I finally would be able to be on 'A' team, sort of.

Learning to work with a team was another large obstacle I needed to face. I'm a very competitive person at heart and I hate to lose. Once I learned that I can't always control the outcome of the game and that I should just give it my all it made working with my team immediately better. I'm glad I learned this lesson before the tournament, because it was my first and most memorable one.

It was an early morning ride to Plattsburg for a long and tiring day to come. We had a total of four games before the championship game for first, second, and third.

"Ladies we are in for the finals and we play East Buchanan. If we lose we get third but if we win we will be going on to play for first and second place, so we're going to win this ladies!" Coach Krieger encouraged as we all got prepared to play our game.

While we warmed up against our opponent, East Buch, I could feel all of my nerves run throughout my hands and feet. I remember the floors not being very slippery so when we dove, we couldn't slide. We started the game off strong, but as the game went on, we started to get tired. East Buch also had a very adequate server who we just couldn't shake.

I think that our weariness and their server was what brought us down and caused us to lose the matches. I know it wasn't effort that we lacked in, because we gave that game our all; East Buch simply out-played us.
As we walked to the locker room I blurted, "Well, we didn't get first but we didn't get last!" A couple of girls giggled, some just shook it off and didn't pay any mind to my comment.

Coach Krieger strolled in and soothingly said, "I'm proud of all of you and how you all played today. It was a challenging game but you guys gave it your all, and I am happy as long as I know you all tried and had fun." My seventh grade volleyball season so far was a roller coaster, starting with me not even knowing if I wanted to even play or not and then if I was even going to make the team. I wasn't sure if I wanted to play, I didn't think I was good enough, and I couldn't accomplish certain skills I wanted to.

"Mom, I don't think I want to do this. Have you seen me play during games?" I pleaded as she picked me up after practice one evening.

My mom responded, "You can't stop now because, you've already started the season and it's not right to start something and never finish."

These events such as my self doubt, discouraged me greatly on my decision on if I was going to play the next season.

But as time went on, I learned not to expect perfection all the time and to just try my best.

Starting volleyball in middle school changed my life immensely, it gave me something new to do, allowed me to make and gain new friends, and it also paved a new path for me to follow in my life.

I still struggle with expecting too much and some days it can be worse than others but now, as a freshman, I made it onto the junior varsity league in my high school. I made it there by pushing myself but not to the extent of insanity. I also managed to find a competitive volleyball league during the basketball season so I can stay busy and stay in shape. My goals for next volleyball season is to make it on the varsity volleyball squad. My own self doubt and expectancy is a stump in the middle of my path to success but I am slowly overcoming that stump and great opportunities are soon to come.

In conclusion, when I found volleyball was my newfound passion, I pursued it. I still engage in it and I love it. Volleyball is my life and the way I found that out was a long and confusing journey. In the end it was all worth it; it's given me a new mindset, friends, skills, and passion for me to follow and make something great out of its experiences.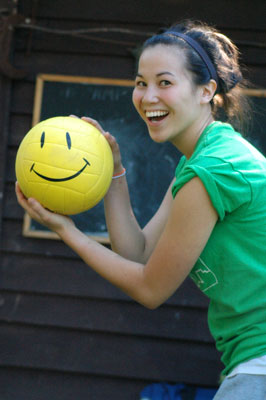 © Masaleen O., Palatine, IL