Hospital Visit #6
May 12, 2017
Growing up as a child, I had a lot of head injuries. I was in-and-out of the hospital. Now, this wasn't a result of bad parenting, it was a result of my clumsiness and always-wanting-to-be-outside mentality. I hit my head on poles, a tree, and even on teeth! I've seen a lot of blood in my lifetime. I have had total of forty-six stitches and seven staples. This story is about the tree incident.

Halfway through the fifth grade, I visited the hospital once again.

On that night my brother, Dylan, who is three and a half years older than me, and I had been throwing a party! The plan for the night was to play games, eat pizza then have a sleep over.. as you probably know, plans seem to go awry. My friends were Dylan's friends, and Dylan's friends were my friends. We definitely had a full house that night—we were always together! Jonathan was there, and Chris and Matt, Isaiah, Josh, Gabe, Bobby, Daniel, Matt, Cooper, Joey, and Bryce. Dylan and I had a good way of incorporating everyone in. No one ever felt left out; we were all super close. Video games were what brought my brother and I together; it was our only shared liking. My mother, Brooke and my aunt, Kerry were the hostesses of the party, but in reality they we just supervisors! Dylan and I took this party very seriously because it was the biggest get together of friends we have ever had. We all just played video games and ate until it became dark out – and by dark, I mean pitch black outside. My mother ordered 8 pizzas from Pizza King, in which I can eat a whole pizza myself. At dark we decided to play a classic game of ours played outside, "ghost in the graveyard."

The rules of ghost in the graveyard are: everyone must play within the boundaries— which were inside the neighborhood, and no going in the back of the neighborhood. You were allowed to go inside the house but it was frowned upon because it was basically cheating. At the start of the game, on the count of three everyone yelled, "Not it!" then whoever was last person would be deemed it. The person who was it would then count to sixty seconds, meanwhile the people who were not counting would hide around the neighborhood. After the sixty seconds expired, the "it" person would go find, and tag, the hiders. The first person tagged would be the one it next round. If you were the one hiding, and saw the ghost then you would yell, "GHOST IN THE GRAVEYARD." Then all the hiders would run to base and when everyone got back to base the game would be over. The game began.

"NOT IT!" All of us screamed at the same time – besides Bobby. Bobby was a little late so he was it! Bobby was the fastest out of all of us; he was also the oldest! One tall streetlamp stood tall lighting up the night. That night, thick dark clouds blanketed the moon. In the pitch-black darkest we played ghost in the graveyard!

A few rounds went by. Matt became the ghost, then Josh, next was Dylan. Joey was one of the youngest players, so he went back inside after a few rounds. Bryce tailed him because they never left each other's side. Chris went inside also to hang out with me mother — because she's the best.

The next round would be the last... Bobby was it once again. The round started and Bobby started counting. Gabe, Josh, Isaiah and I ran off in the direction of the pool to hide in the bushes.

"GHOST IN THE GRAVEYARD!" Was mysteriously screamed so loud that the whole neighborhood could hear it.

"RUUUNNN!!!" Gabe wailed. I look behind me and Gabe is more than sprinting my way. He had a tail named Bobby. Of course, instinctively, I started booking it in the same direction Gabe was running – running for my life. We ran around a nearby building, around the neighborhood pool, around another building. Then I saw a mound of dirt that laid between two trees. The trees stood far enough to leap between them – so that's what I did! I leap over and when I come down it felt like the longest ride of my life—as I went for my leap, a little stem that was attached to a branch, one that had been broken off, seeped into my head and scraped my skull. I had known every little part of that neighborhood, and I swore and swore that there was no branch between those two trees. Yet, there was.

I'm bleeding. I'm bleeding. I'm bleeding. I, consequently, start to stumble and Bobby forces his hand upon me and spoke, "Ha gotcha."

"Wait," I muttered, "Something's wrong with my head." I walk slowly over to the streetlight – with Gabe a Bobby by my side (as always) and my hand on my head. I pull my hand from my head and place my hand under the light. My hand had been painted a rich red sparkly color – blood. I feel crimson streams slide slowly down my face. Next to the blood were cold, subtle tears. I felt so sad, so scared, so angry; for I just knew there was no branch between those two trees.

"Oh my gosh dude you're bleeding," Gabe pointed out mindlessly.
Oh my gosh. I'm bleeding.
"I need to get home," I demanded. Slowly I stumbled towards the house. Base was at my house. When I walked by, everyone on base then followed me inside.
"I hurt my head and I'm bleeding," I explained to my mother – she freaked.

"Okay. We need to get you to the hospital," She muttered all wide-eyed and with her hand over her mouth. She was trying to stay calm but was short of success.

"Dylan, stay here and watch the kids. You and Jonathan are in charge," she demanded. She rushed Kerry and I out of the house and into the car. Kerry sat in back with me – Kerry was in school to be a nurse so she knew what to do.

Arriving at Mercy hospital, they quickly get me into a small, confined room in which I felt trap and like the walls were closing on me. A few minutes later the nurse arrives to check my vitals. The nurse explained to me that if the doctor decides stitches over staples, then i will have to cut off my hair—I freaked. I pleaded for staples instead. I could not fathom losing all my hair! She also said that either way I would have to wait two weeks to remove them. Next when the nurse left, we waited for the doctor to put me come in and put me back together.
"Do you want me to call your father?" Mom asked while she was taking a picture.

"Yes," I pleaded. She called him and fifteen minutes later he came. This was a surprise to me because growing up he never came to anything. All the other times that my head was split open I never invited him to the hospital because I knew things would go south if he came. When he arrived to the hospital the doctor still had not came into the room. He could barely look at me, his heart was broken to see me that way. My father slumped out of the room and went to the bathroom. He hates the sight of his children hurt, as a result passed out in the bathroom. This has happened the first time I busted my head open, I was four, he passed out and hit his head on the concrete.

The doctor finally came through the big light brown door. He checked my vitals once again then applied numbing cream to my wound. Pain coursed throughout the top of my head as the staples were punched into my head—even through the numbing medicine.

Coming home from Mercy Hospital at around midnight, my friends crowded me asking all the questions their minds could come forth with.

"Did it hurt? Did they numb it? Are you okay Jackson? Was the nurse hot?" They all questioned with quick succession. Of course the answer to all those questions was yes. I explained them all the that happened in that small hospital room. The night went on slowly, and I didn't sleep. I got to play video games and hang with my friends all night. Throughout the two weeks of having my staples, my friends protected me from all the possible ways I could hit my head and injure myself again. I knew right then and there that these kids were my best friends, and that they will always be by my side.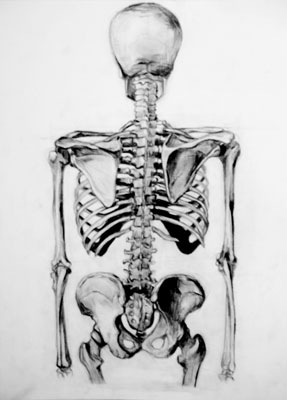 © Nina G., Nashville, TN