Our Treasure
May 11, 2017
I woke up and jumped out of bed, I looked outside and smiled. I had beaten the sunrise. Today was a new day in my favorite place in the world. A place where I spent three birthdays, seven easters, and one anniversary celebration for my grandparents. We always rented our beach house along with our grandparents. It was tradition, we had been coming here for as long as I could remember.
I straightened my race car pj's and tried tossed back my hair but to no avail. No matter how short it was, it still found a way to cover my eyes. I ignored my hair issue and left my bedroom, luxurious as it may be, to race up the wood stairs, my socks slipping all the while on the cold wood floor, almost, almost falling down and down. I remembered the day my younger brother, Henry, happened to slip and topple down the whole flight. He got hurt, and our last day of spring break was tinged with sadness. But this was now. I'm not three, I'm seven! I can do this. Faster I went.

When alas, I reached the top, my short legs close to exhaustion, I saw my grandpa sitting in his chair by the huge window that covered the wall. His armchair had flowers etched into the pale leather. When I had first saw it, I denounced it as girly and unfit for me, but right now my grandpa made that chair look like the manliest thing on earth, he wasn't even trying.

He always woke up early, try as I may, I never beat him. It was like some sun god would come down and wake him, just to tell him that he should wake up right now. Right now if he wanted to watch the sunset and beat his grandson.

Every day the sun came up in a new light, as if it were reborn in the overnight. Today it was a fiery orange. It illuminated the whole ocean, sending it's beautiful colors across the shore, the waves calm as if to state their approval of the morning's rise. My grandpa choose to match the sunrise, though i'm not sure if bright yellow matches orange. Maybe it was the look of triumph and gusto as he watched the sun come up. I stared at him, almost in awe. Here my grandpa sat, a veteran of two wars, a father of seven, a real estate agent, an art collector, a chef, a musician. The list goes on and on however all he seemed to be able to focus on, was the rise of a new sun. Even as his hair turned gray and his skin turned wrinkled, he would watch. Whether in the OBX, or Virginia, maybe even in New Jersey. He found a way to watch each morning's sun. That was one of his main skills, the other being the uncanny ability to remember we had church at the last second, crushing our hopes of missing that morning's sunday school. That was essentially my ability. That and my brothers. No matter what plan we put in place, we could never avoid it, Sunday School was bordering between a blessing and a curse. Though sunday school was not present on vacation, and today we were on vacation.

My grandpa turned to look at me, a simple "hello" and "good morning" were the only words he needed to say. His deep brown eyes said the rest. He looked just like my brother Jack who in turn looked just like my cousin Timmy. Each were carbon copies with only miniscule differences and large age gaps to tell them apart. I said a cheerful good morning to my grandpa and I sat down in the chair next to him, flowers in the leather, only this time I felt a little more manly as my grandpa and I sat together and watched the sun come up.
It was around mid-afternoon and everyone had awoken. In fact we had been awake so long my grandma had already taken a nap and figured out a way to finish a two-hundred-fifty piece puzzle as well as become the first person ever to win a game of solitaire. My two brothers were awake as well, Henry and Jack. The three of us were inseparable on vacations like this, where ever one of us went, the other followed and that's how we liked it. Currently, Henry had finished his Cowboy Burrito, a signature recipe of my grandpa's, and was watching the sea create and destroy beautiful waves of silk. Naturally, Jack and I felt obliged to go and stand with him. To our great surprise, it wasn't the beautiful sea that had captured my brother's attention, nor was it the small sailboat on the horizon. Instead we were stuck dead observing an odd pole. I was sticking out of the water, a good hundred yards off shore. We couldn't make out what it was and neither could my Dad when we called him over. He proposed we make a run along the beach, maybe it would clear our minds and stir up a memory. We agreed and together we ran downstairs to get ready for a beach adventure.

No more than a mile of running, but to us it was perfect. We put on our shark bathing suits, they were all different but they each highlighted the greatest legend of the ocean, sharks! We begrudgingly adorned our spf sunscreen and together we tromped outside and onto the sand, a little less cheerful after the sunscreen had been applied. Luckily my Dad took no notice, so we set off down the beach, letting the water splash and tickle our feet, the white foam expanding on the seashore.

After about ten minutes we decided to turn for home. That's when we saw out. Out of the corner of our eye's we saw the biggest, ugliest, dirtiest hunk of metal in all of North Carolina. We walked towards it, our hearts beating with excitement and the hope of finding treasure. We all observed it and realized it was quite unique, for example nails and some marks left behind gave us a hint it was part of a ship. It's coral like color gave us the hint that it had washed up. As if on instinct, our faces became aglow with happiness. Together we heaved and hoed until we had lifted the piece of metal together we walked back to our beach house, a piece of a sunken steamer glimmering in our hands. It had found it's home and final resting place. Our first piece of treasure...
Four Years Later
"Are we there yet?", the time old question that never needed an answer. I had just turned twelve last week and summer was finally in full swing. We had been once again invited to beach week, where everyone in our family rented a single beach house and together all thirty something of us spent the week together. Soon we were in the front drive of a massive beach house. It had front steps more than a story in height, a wrap around porch, two car garage. A yellow paint job that complemented the white shutters. The house was nicknamed Sunrise Surprise, and we were there to celebrate my grandparents seventieth anniversary. This must have been my grandpa's dream house, a name that include sunrise and a yellow paint job. To him you could do no better. I turned around to look at my brother's smiling faces. The car lurched to a stop behind my Uncle's, a bright red stick-shift that smelled ancient from a mile away.

Charlie was the first to jump outside and get a whiff of the salt water air. He was the newest brother and he was built for the beach, sandy hair like Henry's, a beach body year round. He beckoned for the rest of us to join him and together we welcomed the smell of another year. Before long the sound of bags being brought inside triggered an idea in my Mom. She looked around at my soon to be adult cousins carrying heavy bags up the outdoor steps and into the house and rationalized that we should do that as well. My Dad seemed to be the only one to agree. When all the bags were safely brought inside, we settled down and prepared for the first truly epic week of summer.
It had only been four days since our arrival and Aunt Kerry had already tried to breed my dog with hers, my cousins Micah, Alex, Timmy, had longed over twenty four hours of gaming, and my cousin Maddie, a nurse, had already bandaged a couple hundred kneecaps and elbows. But then again this was how we liked it. Today was the Summer Solstice, and to celebrate we decided to do a variety of outdoor things, sandcastles or sand cities which always ended in a battle over whose mound was prettier, bean bag toss which was Maddie and Uncle Tom's sport of choice as they were practically on the olympic team, seashell collecting which unfortunately none of us were very good, and best of all running. We always ran, sometimes one at a time, sometimes all of us. Right now it was just me, my Dad, and my brothers. An invisible and silent gunshot ripped through the air and together my brothers and I set off on the race of the century, weaving our way in and out of the water. We were like animals, the guy in front was the prey, the guy in back was the predator. I could almost see cheetah fur starting to grow on my brother Jack. My brother Charlie surged forward and got a taste of the lead only to be pushed back by Henry, who didn't care, cheap shot or not he got in front. We ran until our hearts gave out. I was the last one still running. My brothers were becoming specks in the distance but I wasn't stopping here. I almost ran past it, but it was too big to avoid. There it was in the dark shadow of the dunes.
A shipwreck. Long and thick, it's spine a whole tree, it's branches were the ribcage that extended to make the wreck resemble a whale skeleton. I stood still, amazed at what I was seeing. My mouth finally dropped open. I stood still frozen in the heat. Soon my brothers all joined me, each more amazed then the next. Sand covered the wreck, nails littered the ground. The great image of the claw like ribs clouded our minds. Soon my Dad joined us, and instantly his phone was out, texting all of our relatives to come quick. In less than no time our whole family was there. To the random onlooker we must have looked like a fancy pirate crew that had just discovered their lost ship. Some people in our family were certainly not the waiting type. My Grandpa, my cousin Cas, and my Aunt Kathy all rushed forward to study the great beast. Slowly we all followed. We sat on it, we played games around it, we took pictures. We lost track of time and soon we were watching the sun go down. We all sat in the sand and tried to decide which view was cooler, the sun or the ship. When night finally arrived we were forced to go home, leaving the sunken civil war blockade runner, the Boston, behind in the sand.

The next day it had washed away in the sand, just like the rising sun, all good things must end. However the memory will never escape us. Each year after we remember our adventure on the beach. Recently this christmas my Grandpa sent a metal detector to my brother, in hope of finding more treasure. We didn't even need to look, we had found it in our family.
The End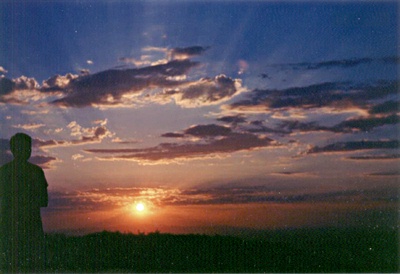 © Jovee B., Dededo, Guam