If Only You Spent a Day in My Outfit
May 9, 2017
Light washed, ripped, denim shorts with a gray and blue,age suiting Elsa top, and a sky blue flannel. One of the favorite days was spent in that outfit. Disneyworld. The day was spent riding rides, meeting princesses, Cheddar Mac-n-Cheese topped footlongs, and sparkly Minnie Mouse ears. I felt like a little girl. And I always do.
Everytime. Happiness radiates from every person's beaming smile. I can't even begin to explain the magic that's felt! Oh, how I wish that I could revive that day, and live it over.
It started as a cool 50 degree winter day in the ever-so-beautiful Orlando, Florida. But soon, became a scorching 90 degree day. The beautiful, yellow sun began to fry my back to a crisp. But that stopped no one from giggling all day. We hit the rides with the short lines first, then made our way to the hot spots; Space Mountain, The Monsters Inc., Toy Story, and Stitch rides. Those rides held record breaking times for the wait. Or as it seemed. They had an hour long, dreadful wait. What was my favorite ride you ask? Guess! Space Mountain. Especially after you spend the day walking in the dreadful heat. Oh, how I get excited just writing about it! They even make the line while waiting a good time. Who knew waiting could be bearable and not completely agonizing? You get to play a game on a large screened T.V with your family. But, the best part is the actual ride itself. Looping through the dark, feeling the cool air hit your face, and blow your hair! Swish! The flashing lights and rocketship noises!

Oh, sorry. Let's get back to the rest of the day…

We decided to take a break from the rides. So instead, we walked around, shopped, and so on. I got a pair of sparkly Minnie ears! I received so many compliments, of course! After receiving my ears, I begged for a delicious sundae. But my parents insisted that I ate real food first. So, we stopped by one of the window restaurants. Holy Cow! Let me tell you about my lunch. I devoured a foot long hot dog, topped with Mac-n Cheese, and breadcrumbs. They even gave me a side of chips and pop. It took me no longer than 10 minutes to scarf down that entire meal. My mom asked if I could possibly get a sundae down still. You better believe my answer was, "yes!." But as it turns out, my eyes were bigger than my stomach. As I ate half of my sundae, we found a spot next to Cinderella's beautiful, blue castle to watch the parade and fireworks. Although, this was one of my favorite parts, I was then saddened at the fact that the day was coming to an end. The music played, and the castle projected videos that corresponded with the songs as the fireworks crackled and popped. The princesses and their prince charmings came along down Main Street in beautiful carriages, strung in lights.

We watched Tinkerbell fly above us, looked around in amazement one last time, and headed for the ferryboat. Goodbye Disney. You have treated me well, once again. No matter how old you are, I'm sure you can tell me a story about the time you spent in this wonderful world of Disney, and the outfit you wore. If you're three, seventeen, thirty-five or ninety, I'm almost positive you felt like a little kid again. If you ever ask me about an outfit like this again, I'll gladly give you a story.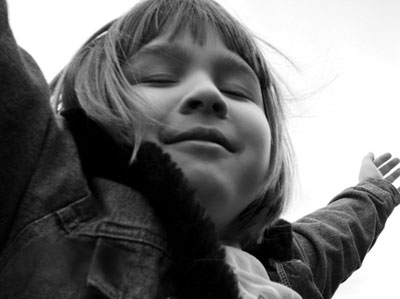 © Morgan C., Fridley, MN